Carmudi academy for road safety heads to DLSU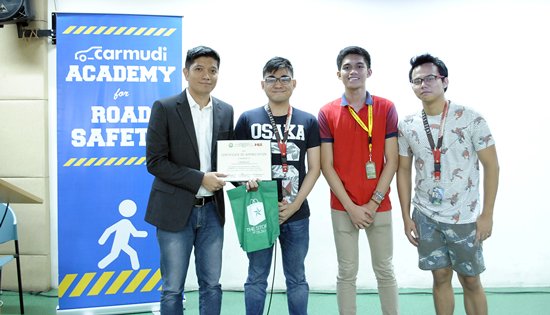 Press Release
March 5, 2018
TAGUIG – After officially launching its Corporate Social Responsibility (CSR) initiative, global online car platform Carmudi has renewed efforts, starting off its road safety campaign for this year in one of premier universities in the country.
The Carmudi Academy for Road Safety (CARS) program kicked off for 2018 at the De La Salle University (DLSU) in Manila.
The CARS program is designed to create awareness and help students – particularly in Universities and Colleges – raise their basic understanding of road safety.
During the event, Kris Lim, Head of Public Relations and Marketing of Carmudi Philippines, reiterated the road safety program focuses on three fundamentals that would lead to better and safer driving: right knowledge; right skills; and right attitude.
He shared to the participants some facts and figures pertaining to road safety, specifically road accidents that occurred in the Philippines.
According to Lim, a surprisingly huge number of the motoring public (composed of drivers, pedestrians and commuters) lack the basic knowledge of road signs, markings, traffic rules and regulations, does not have the sufficient defensive driving skills and as does not practice proper attitude while on the road.
He also said that the program held at De La Salle University (DLSU) is just the start of series of campus workshops that they will be doing as the year progresses.
"Instilling in their minds the key factors to better and safer driving is not a one-time event but a continuous program for Carmudi," Lim said.
"Our aim is to create a harmonious and safer driving environment for motoring public," he added.
Further, the Automobile Association Philippines (AAP) – a constant partner of Carmudi Philippines in its road safety efforts – took part in the inauguration of the CARS program.
Through AAP Advocacies Manager Cynthia Reyes, the national auto club discussed the overview of Republic Act 4136 – also known as the Land Transportation and Traffic Code – and showed scenarios which resulted in road crashes.
Carmudi forged its partnership with AAP, which also led to assisting the club in the reproduction of copies of the RA 4136, which was also given to the participants.
Aside from AAP, Carmudi also invited road safety advocate Arnel Doria that further discussed the advantage of defensive driving on the road and driving behavior of motorists.
Meanwhile, Lim said that they will moving around the country, as they are now in talks with various colleges and universities that shares the vision of creating a sustainable road safety effort in the motoring facet of the country.