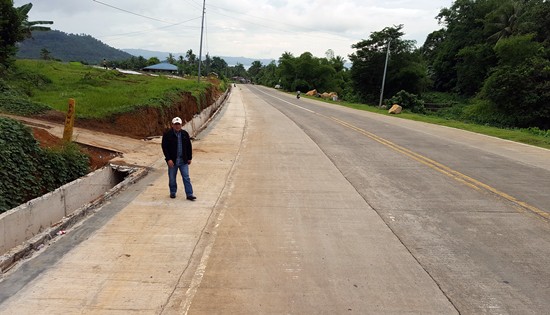 David P. Adongay Jr. District Engineer of Biliran District Engineering Office inspects on-going construction of drainage along Naval-Caibiran Cross Country Road (NCCCR), Naval, Biliran on May 31, 2018. This project is target to be completed on September 2, 2018.
DPWH-Biliran DEO's updates on 2018 project status
Press Release
June 13, 2018
NAVAL, Biliran – The Department of Public Works and Highways (DPWH) –Biliran District Engineering Office (DEO) continues progress for its 2018 project implementation. As of May 31, 2018, the office has a total actual accomplishment of 25.01% with a positive slippage of 0.39%.
P1.6B has been allotted to Biliran DEO for the implementation of 60 infrastructure projects based on the 2018 General Appropriation Act (GAA). Out of the 60 projects, 36 are on-going, six are completed and 18 are up for implementation.
David P. Adongay Jr., District Engineer accounted the delay of projects due to the damages caused by tropical storm Urduja on December, 2017 resulting inaccessibility to project sites.
Under preliminary and detailed engineering activities, Engr. Rosario B. Rosete, Chief of the Planning and Design Section reported that 57 were already completed while only three are on-going with an accomplishment 96.54% as of May 31, 2018.
The purpose of preliminary engineering is to gather the necessary data from the field as basis in the preparation of plans. Activities under this phase includes surveying, designing and programming.
For pre-construction phase, out of the 60 projects, 49 are completed, eight are on-going and three are Not-Yet-Started (NYS) with an accomplishment of 77.98% as of May 31, 2018.
The district had already advertised 57 and successfully bid out 56 out of 60 projects under FY 2018 GAA.
The office continues to monitor and fast tracks these projects in order to deliver a safe and quality assured infrastructures that will be beneficial to the end-users.