Copy-Paste: A bad practice in OPTs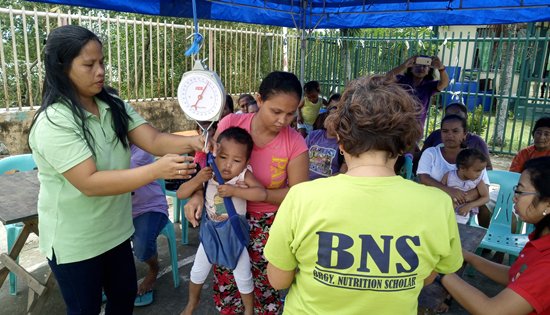 By RAY GASPAY
June 11, 2018
CATBALOGAN CITY – Copy-paste. This was the issue found and concern aired by the Municipal Nutrition Action Officers (MNAOs) of Babatngon and Capoocan, both of Leyte province, to media during the 2-day Media Caravan conducted on June 7-8, 2018 by the Harmonized Initiative of Media for the Spread of Good Nutrition in Region 8 (HIMSOG-8), a media arm of the National Nutrition Council 8.
"We do not believe that we are in the top rank of a municipality with a high prevalence of malnutrition in the region. We see the 'copy-paste' practice of some of our BNSs (Barangay Nutrition Scholars) as the culprit of this erroneous result in the OPT (Operation Timbang)", lamented the MNAOs during the open forum of the media visit.
The MNAOs argued that some of their BNSs, because of the urgency to submit their Barangay OPT result before the deadline, tend to copy the previous year's OPT result, consequently providing a wrong data entry with a higher rate of malnutrition.
When media asked that they should tell their BNS to conduct the weighing and growth monitoring activity with diligence, they claim that still some of their BNSs needs more training to perform the task well. Capoocan MNAO admitted that it is hard for her to demand better performance to her BNSs because they only received a minimal amount of P100-P300 a month honorarium from their barangay, and that her municipality cannot provide them additional pay.
In the 2017 Prevalence of Malnutrition result, Babatngon and Capoocan ranked 1 and 2 in the prevalence of stunting rate, ranked 29 and 92 in the prevalence of wasted and severely wasted, ranked 1 and 98 in the prevalence of underweight and severely underweight, and ranked 25 and 6 in the prevalence of overweight and obesity, all respectively from out of 134 municipalities in the region.
The HIMSOG-8 media caravan is an annual activity of the regional media group to visit selected municipalities in the region whose aim is to encourage LGUs to invest more and enhance its programs on nutrition. It is also a forum where issues of concern are discussed in detail, resolved or referred to the concerned office or officials for an immediate action.
This year's caravan centers more on eight (8) nutritionally depressed municipalities in the region.