Traffic survey: aid for better road design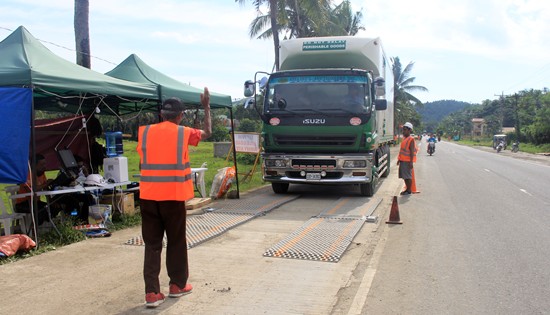 By MAE ANGELICA R. COMOTA
June 11, 2018
CALBAYOG CITY – The Department of Public Works and Highways -Samar First District Engineering Office with the Regional Office No. 8 - Road Traffic Information Applications (RTIA) Coordinator conducted the Annual Axle Load Survey along Daang Maharlika in Brgy. Cagsalaosao, Calbayog City. The survey period started from June 3 to 9, 2018.
Axle load is the total weight transmitted to the road by wheels connected to the axle of a vehicle. The axle load survey establishes load distribution and accurate forecast on traffic loading that a road will have to carry over its entire design life.
Traffic flow in the above-mentioned road section was normal as the load axle survey uses a new weighing motion scale allowing loaded trucks to be weighed without disrupting the motorists using the same road section.
A loaded truck rolls on the weighing scale while the attached monitor records the truck's gross weight and axle load. The survey team also takes note of the truck's plate number, number of seats, and load capacity.
The raw data collected will be submitted to the Regional Office for consolidation. Then, the consolidated data will be sent to the Central Office to determine the average axle load. If the average axle load is determined to be higher than established parameters, the thickness of the pavement will be revised to accommodate the change in axle load experience by the road.
Currently, the nationwide standard of thickness for pavement design is 28 centimeters.
"With Calbayog City's recent economic developments, the infrastructure needs to keep up. This survey comes at an opportune time as it will help us design and build better roads for the public," said District Engineer Alvin Ignacio.