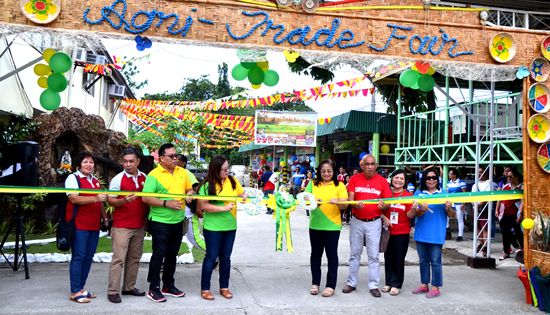 DAR-8 Regional Director Sheila Enciso (4th from left), Assistant Regional Directors Ma Fe Malinao (4th from right) and Ismael Aya-ay (3rd from left) cut the ceremonial ribbon to formally open the mini-agraryo trade fair at the DAR Regional Office compound. With them are DAR provincial officials (from left) Teresita Alde (PARPO-I, Eastern Samar), Gilberto Apilado (PARPO-II, Eastern Samar), Renato Badilla (PARPO-II, Leyte), Paulina Canales (PARPO-I, Leyte) and Elisea Orapa (PARPO-II, Southern Leyte).
DAR commemorates 30 years of CARP, opens agraryo-trade fair
By JOSE ALSMITH L. SORIA
June 13, 2018
TACLOBAN CITY – A mini-agraryo-trade fair was opened on Monday morning at the Department of Agrarian Reform Regional Office compound in this city as the said agency started a four-day celebration in commemoration of the 30 years of implementation of the Comprehensive Agrarian Reform Program (CARP) in the county.
The trade fair highlights the celebration showcasing the growth of the agrarian reform beneficiaries (ARBs) from ordinary tillers to enterprising ARB organizations (ARBOs).
All five DAR provincial offices in Eastern Visayas were provided a booth for ARBOs products ranging from agricultural to handicrafts and processed foods.
Regional Director Sheila Enciso disclosed that DAR has provided more than 219,000 ARBs throughout the region with certificates of land-ownership award (CLOAs), while more than 413 ARBOs were organized into associations or cooperatives during the 30 years of CARP implementation.
Meanwhile, Assistant Regional Director for Program Beneficiaries Development (PBD) Ismael Aya-ay likewise disclosed that DAR has provided ARBs through the years with various support services such as infrastructures, common service facilities, trainings and facilitate too in availing of credit assistance.
He further disclosed that four processed food products produced by ARBOs in Leyte, Samar and Eastern Samar can now be sold on a larger scale after obtaining recently a license to operate from the Food and Drug Administration (FDA).
These are: "Banana Chips" by Omaganhan Farmers Multi-Purpose Cooperative in Tabango, Leyte; "Imbotido" by LIBERCON Multi-Purpose Cooperative in Hilongos, Leyte; "Pancit Canton" (squash and malunggay flavors) produced by San Roque Farmers Association in Daram, Samar; and "Cassava Chips" (sweet blend and garlic flavors) by ESEP ARC Cooperative in Salcedo, Eastern Samar.
On June 10, 1988, then President Corazon Aquino signed Republic Act No. 6657, otherwise known as the Comprehensive Agrarian Reform Law (CARL) to look after the welfare of the landless farmers and farmworkers to receive the highest consideration to promote social justice and to move the nation towards sound rural development and industrialization.
To commemorate the 30 years of implementation, DAR-8 kicked-off the four-day celebration thru a motorcade around the city on Monday morning and will end on Thursday by recognizing the support and contribution of various government agencies and non-government organizations during the past three decades.
This year's celebration theme is "CARP@30: DARe2change Pagbabalik tanaw sa 3 dekada ng repormang agraryo patungo sa ikalawang yugto ng pagbabago".