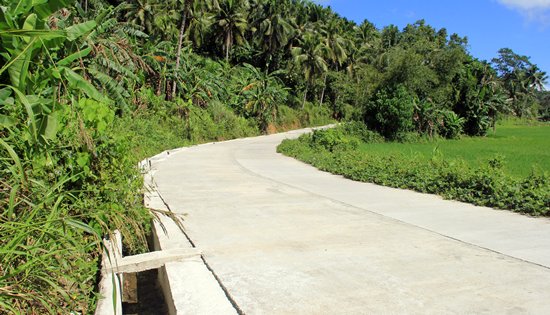 The farm to market road connecting Brgy. Panaruan and Brgy. Can-ipulan, Sta. Margarita, Samar.
P20 million FMR improves farmers' livelihood
By MAE ANGELICA R. COMOTA
February 23, 2018
CALBAYOG CITY – DPWH Samar I completes the construction of four (4) farm to market roads (FMR) within the district benefiting the farmers and residents situated in Barangays Cabunga-an and Sitio Mactang in Santo Niño; San Luis and Pange in Tarangnan; Santo Niño and Macugo in Gandara; and Can-ipulan and Panaruan in Santa Margarita.
These projects have a combined appropriation of P20 million and cover the concreting of 1.44 kilometers of road. In these communities where agriculture is the primary source of income, the concrete road provides the farmers direct access to neighboring barangays and their respective poblacions, establishing trade and income.
In Brgy. Panaruan, farmers had to endure walking on uneven and rocky ground while carrying heavy produce just to deliver it to Brgy. Can-ipulan and Brgy. Solsogon.
"We used to walk for more than an hour because even habal-habals and motorcycles would not ride through the bumpy old dirt road," explains Michael Catalan, a farmer from Brgy. Panaruan. "Now that this road is concreted, it is easier for us to transport our products using motorized tricycles."
Travel time and transport cost for agricultural products is reduced by 50%.