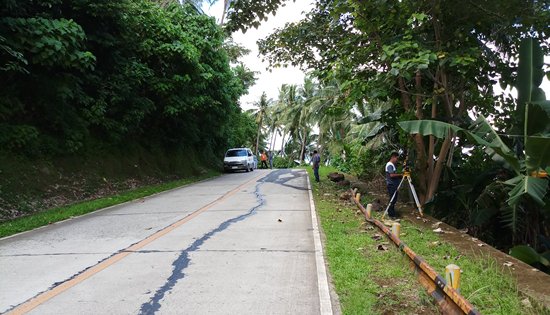 Survey team from the Planning and Design Section of Biliran District Engineering Office conducts survey of the site for the Construction of Slope Protection Project located at Brgy. Pinamihagan, Culaba, Biliran with an allocation of P 50,000,000.00. The section is prone to road slips and landslide posing danger to lives, properties and existing national structures, hence prioritization under FY 2018 DPWH Program. The completion of this project will provide a structure that will prevent road slips and landslides which will eventually prevent damage to the existing paved National Road.
P1.8B worth of infra projects allocated to DPWH-Biliran DEO for FY 2018 with additional projects
By CHELSEA QUIJANO-SALLOMAN
February 23, 2018
NAVAL, Biliran – The Department of Public Works and Highways (DPWH) Biliran District Engineering Office gets an additional budget for project implementation this year.
Biliran DEO has been allotted with a total budget of P1.8B worth of Infrastructure projects which comprises of 63 projects.
According to Engr. Rosario B. Rosete, Chief of Planning and Design Section, 61 of which are to be implemented by the District Office while two will be implemented by the Regional Office.
"Previously, we only had 57 projects, 52 are for Biliran DEO's implementation and five from the Regional Office with a budget amount of P1.584.224B [sic]. Out of the five Regional Office projects, three were requested by the District Office for authority to Bid and Implement amounting to P320.9M. It was just recently been approved by DPWH Secretary on January 29, 2018 including the P100M project funded under the Regionwide Congressmaen's Fund," revealed Rosete.
Rosete said that aside from the four projects added, the District Office will have another five additional projects for implementation amounting to P147.5M.
"The budget came from the Regionwide funds of Congressmen as per request by Biliran Province Local Government Officials," she said.
The additional projects are the construction of four seawalls, one multipurpose building, one baywalk and two slope protections.
As of February 15, 2018, Rosete said that 48 projects were already bid out, 2 are advertised and 11 are not yet started under pre-construction activities. Preliminary and Detailed Engineering (PDE) Activities are still on-going for these 11 projects.