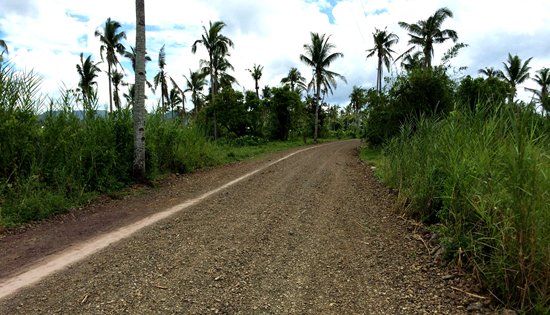 This P8.49M 3.55-kilometer all-weather road in Barangay Salvacion, Alangalang, Leyte was implemented under the second phase of the Agrarian Reform Communities Project (ARCP-II).
(Photo by Engr. Ellen Dico)
The road to Salvacion and Langit
By JOHN COLASITO
February 21, 2018
TACLOBAN CITY – Nine months after the completed road project here was turned over, Alicia D. Josol, Barangay Captain of Barangay Salvacion in Alangalang, Leyte, remembers the time when the way going to her village was dangerous, as it was very slippery.
Accidents happened regularly. She even fell down one time from her ride on a motorcycle or "habal-habal," as it is commonly known in the area.
There was no decent road at all. It was an unpaved one, only a foot trail where pedestrians, animals and motorcycles could pass by.
The road was such in a terrible state that accidents are an accepted reality.
It was part of the price to pay when going to the village. It was also a reality that they would have to wade through waist-deep water every time it rains just so they could go to their place, Josol said.
Now, these are just memories of the past.
Josol thanked the Department of Agrarian Reform (DAR), the Asian Development Bank (ADB) that provided the funds under the second phase of the Agrarian Reform Communities Project, and the local government unit (LGU) of Alangalang.
Mayor Reynaldo Capon Sr. said that today, the road is made more comfortable.
People can already travel here and to the adjacent Barangay Langit using a bicycle, something that used to be unthinkable before, he added.
There are now more vehicles that ply this area. Motorcycle fare has gone down to P20 from the previous P80 to P100, Capon said.
The P8.49-million total project cost of the 3.55-kilometer road was shouldered by the LGU and a loan from the ADB by the national government.
Thus, Regional Director Sheila Enciso reminded the recipients during the turnover of the said road project to maintain it in good condition for 10 years. Otherwise, the LGU will have to pay the loan counterpart, equivalent to 40 percent of the total project cost.
Meanwhile, Leyte-Biliran Provincial Agrarian Reform Program Officer Renato Badilla advised the residents in the area to take this opportunity in improving their quality of life.
According to him, this project is aimed at increasing household income by improving farm production, thereby reducing poverty in the countryside.