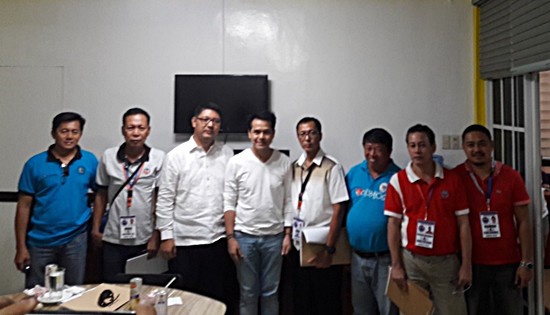 (L-R) City Engr. Marlo Resulta, MPP Mario Balani, CCDHO Atty. Anthony Singzon, Cong. Edgar Mary Sarmiento, DE Alvin Ignacio, City Engr. Restituto Monsanto, RROW Coordinator Anthony Baltazar and Maintenance Chief Engr. Ramon Calagos.
Samar I intensifies road right-of-way acquisition
By APRIL FATIMA DIRA-VILLANUEVA
February 13, 2018
CALBAYOG CITY – A consultative stakeholders' meeting between Congressman Edgar Mary Sarmiento and representatives from Samar First District Engineering Office, City Engineering Office and Calbayog City Development Housing Office was conducted last January 25, 2018 at Rep. Sarmiento's District Office in Brgy. Payahan, Calbayog City. The main agenda for the said meeting was the strict implementation of the Right-of-Way (ROW) limit along National Roads.
During the meeting, District Engineer Alvin Ignacio informed everyone that SFDEO will implement a ROW patrol which will be directed to immediately remove or cause the removal of all obstructions and prohibited uses within the ROW of all national roads within the District and to prohibit the presence or occurrence of structures, objects and activities along our national roads as well as strictly disallow the building, erection, construction, planting and fabrication of any barricade.
Selected maintenance personnel will form the ROW patrol and will conduct routine roving activities in order to maintain the 10-meter ROW limit. If they encounter obstructions of any kind within said limit, its immediate removal shall be executed.
According to RROW Coordinator Anthony Baltazar, who presented the status of encroachers and RROW obstruction, "it was concluded then that pertinent laws, provisions and regulations has to be implemented in strict compliance in its enforcement with the help of PNP Calbayog."