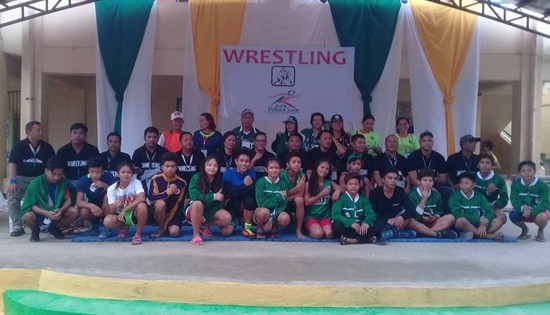 LEYTE'S PRIDE! Wrestling Team of #LeyteEVRAA2018 hauls 13 gold and 2 silver. Coaches: Ma'am Baby Salvacion Canamaque and Sir Jose Edgar Blones.
EVRAA 2018:
Leyte Wrestling Team hauls 13 gold, looks forward to Palaro
By FELIX ASIS
February 8, 2018
CALBAYOG CITY – Leyte Conquerors lived up to their stellar billing dominating the Wrestling Competitions with 13 gold medals of the 16 gold at stake and two silver medal in the Eastern Visayas Regional Athletic Association (EVRAA) Meet 2018 at the Rawis Covered Court, Feb. 6.
The win was four gold medals greater than the nine gold they have in last year's EVRAA to claim the championship in the event.
"The team will continue training for the Palaro as we want to surpass the six gold medals we got in Antique last year," said Jose Edgar Blones, coach of secondary girls.
Coached by Baby Salvacion Cañamaque, the secondary boys bagged 7 gold and 1 silver and the secondary girls capped six gold and 1 silver.
Gold medalists in the boys category were Joenil Lagarde, Crispin Cruzzel Caliguid, Diomel Hugo, Jesus Gabriel Raganit, Jonathan Berdida, Pedro Obias and Anthony Pangan.
"We are going to Vigan and hopefully we win gold also," said Lagarde.
In the girls division, the gold medalists were Zenith Gayas, Lovely Ann De la Cruz, Jane Erasmo, Veronica Ompod, Mariel Liwanag and Renalyn Claros.
The silver medalists were Joel Belecario and Marilyn Villaruel.