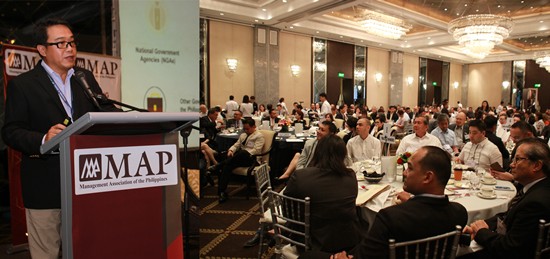 DTI Undersecretary Rowel S. Barba urged the MAP members to file a complaint before ARTA against erring government officers who are committing violations of the RA 11032 or the Ease of Doing Business and Efficient Government Service Delivery Act of 2018.
Businesses urged to help end corruption in government
File a complaint with Anti-Red Tape Authority and stop giving bribes – Barba
By DTI-CEODBG-CB
August 1, 2018
MAKATI CITY – The Department of Trade and Industry, as the temporary Secretariat of Anti-Red Tape Authority (ARTA) appealed to the business community yesterday to take an active part in the implementation of the Ease of Doing Business and Efficient Government Service Act by reporting inefficiencies in government services, amid the numerous red-tape related complaints raised by companies in a business forum.
"We call on businesses and our citizens to file a complaint when confronted with incidents of corruption and red tape. We need to file a case against erring government official and businesses should testify." DTI Undersecretary Rowel Barba said during the open forum of Management Association of the Philippines (MAP) General Membership Meeting in Makati City.
Members of the business sector aired their grievances to the DTI as temporary secretariat of ARTA, enumerating unpleasant and business-unfriendly experiences with government. The complaints range from tedious processing of applications, to unreasonable documentary requirements, and government offices "sitting" on application of businesses.
Undersecretary Barba informed the business sector on the salient provisions of the EODB and cited the violations and penalties under the new law. Violations stipulated in RA11032 include:
a. Refusal to accept application or request with complete requirements being submitted by an applicant or requesting party without due cause;
b. Imposition of additional requirements other than those listed in the Citizen's Charter;
c. Imposition of additional costs not reflected in the Citizen's Charter;
d. Failure to give the applicant or requesting party a written notice on the disapproval of an application/request; Department of Trade and Industry;
e. Failure to render government services within the prescribed processing time on any application and/or request without due cause;
f. Failure to attend to applicants or requesting parties who are within the premises of the office or agency concerned prior to the end of official working hours and during lunch break;
g. Failure or refusal to issue official receipts; and
h. Fixing and/or collusion with fixers in consideration of economic and/or other gain or advantage.
Any government officer found liable of committing these violations shall suffer the penalty of six months suspension (administrative liability), and disqualification from public office, and forfeiture of retirement benefits and imprisonment of 1-6 years with a fine ranging from P500,000 to P2,000,000 (administrative and criminal liability). Bribery, extortion, or when the violation was done deliberately and maliciously to solicit favor in cash or in kind shall also incur criminal liability under the Revised Penal Code.
Responding to queries regarding the implementing rules and regulations, Usec. Barba disclosed that a draft version is being prepared by ARTA, and is subject to broad-based public consultations. The IRR is expected to be finalized and signed by October 22, 2018, or 90 working days from the effectivity of the law.
"We wish that there will be no more corruption in the government and there will be no more bribers from the private sector." told Usec.Barba.