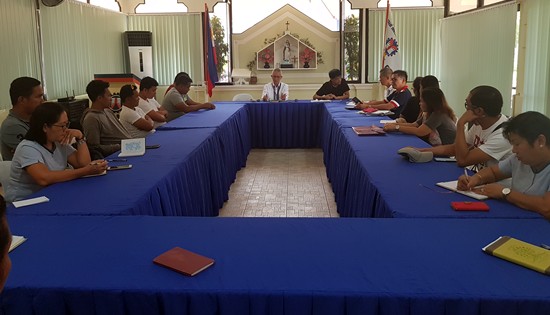 Alfredo L. Bollido (center), Assistant District Engineer of Biliran District Engineering Office holds a meeting for contractors together with Section Chiefs and Technical personnel on July 4, 2018 at Biliran District Engineering office to address delayed projects of the district.
Biliran DEO orders contractors to fast track delayed projects
Press Release
August 1, 2018
NAVAL, Biliran – "Fastracking our projects doesn't mean that we need to sacrifice the quality of our work, even if we are ordered to accelerate our accomplishment," Alfredo L. Bollido, Assistant District Engineer reiterated to contractors.
Bollido holds a contractor's meeting on July 4, 2018 at Biliran District Engineering Office (BDEO) to address problem on delayed projects of the district office.
The meeting was called as directed by District Engineer David P. Adongay Jr. who was attending a very important meeting at the DPWH Central Office at that time.
From the month of May to June, 2018, Bollido emphasized that the overall accomplishment of the district just increased to only 3% a month when it should supposed to accomplish at least 15% each month.
Bollido said that the District Engineer wants the contractors to accelerate their work in order to meet the 15% monthly target accomplishment of the district.
"Allotment of the budget is based on the performance of the district. If we continue to have low accomplishment, this will affect our budget allotment for next year," Bollido added.
Starting 2019, the department will be implementing the cash-based policy which means that contractors have only one year validity period to finish the implementation of projects.
With this, Bollido orders contractors to rush the implementation of projects funded from current General Appropriations Act (GAA) as well as those funded from previous years' GAA i.e. 2016 and 2017 in order to smoothen the 2019 project implementation.
According to Bollido, BDEO would identify those contractors who have low accomplishments.
"Those contractors who have already 50%-100% negative slippage will be recommended for contract termination and will be automatically blacklisted to participate in any future biddings in Biliran DEO," Bollido said.
"We need your cooperation because we are not only be the one that will be affected, but also you (contractors)", he added.
BDEO has been allotted P1.6B for 2018 with a total of 60 projects funded under the General Appropriation Act (GAA). Out of the 60 projects, 24 are already completed, 28 are on-going and 8 are Not-Yet-Started (NYS) as of July 31, 2018 with an overall accomplishment of 42.60%.
Under 2017 project implementation, out of the 57 projects, BDEO has completed 52 with still five projects on-going which are being rushed for completion.