Poultry workers appeal to food giants: Don't deal with sweatshops
Press Release
August 1, 2018
QUEZON CITY – Dismissed workers of DBSN Agriventures – a poultry dressing plant in Albuera, Leyte, that has a production capacity of 65,000 heads per day and a supplier of food giants San Miguel Foods Corporation and Jollibee Food Corporation – staged a picket in front of the head offices of said food conglomerates in Ortigas Center Wednesday to highlight their sorry plight.
DBSN Agriventures: Reputational Risk to SMC and JFC
Josephine Jaballa, spokesperson of the DBSN Agriventures Workers Union said, "We appeal to San Miguel Foods Corporation and Jollibee Food Corporation to look into the workplace conditions of their contractors, subcontractors and suppliers, particularly DBSN Agriventures that supplies their chicken meat requirements".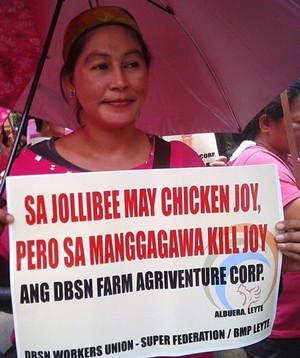 DBSN Agriventures is one of the biggest poultry dressing plants in the country. It was accredited by the National Meat Inspection Service and certified as an ISO company by TUV-Rhineland despite its violations to labor standards. Workers at DBSN Agriventures are paid for P285 per 15-hour shift, which is but the regional minimum wage for workers in Region 8 for 8-hours of work, without overtime pay and premium among its many labor standard violation.
DBSN Farm Agriventures Corporation is owned by Ramon Oñate, Municipal Mayor of Palompon, Leyte.
"SMC Foods and JFC should recognize the reputational risks brought by sweatshop labor to their popular brands. If they want to, both companies, who major industry leaders, could easily put pressure on their suppliers and contractors to comply with labor rights and standards before they could enter into business with them," she added.
"If not, then we have every reason to declare that the multi-billion peso empires of San Miguel Foods and Jollibee Food Corporation were accumulated through the gross violations to labor standards, severe capitalist abuse and exploitation, and subhuman working conditions of its contractual workers," she explained.
Workers sought DOLE inspection but was punished by management
Despite working for more than a year and performing functions directly related to the principal, the DBSN Agriventures management forced its employees to sign a contract, under threat of termination, to make them employees of JBC or Manpower Services, an agency which engages in the prohibited practice of labor-only-contracting. The said manpower agency is owned by the daughter of the plant manager.
Upon the inspection of a labor inspector of DOLE Region 8, DBSN was found guilty of the following labor standards violations: (1) No proof of coverage/remittance of SSS, (2) No Service Agreement, (3) Non-payment of Overtime Premium Pay, (4) Non-payment of Service Incentives Leave Pay, (5) Non-payment of Holiday Pay, (6) Illegal deduction (personal protective equipment such as masks, gloves, and aprons, and delivery and transport expenses of sold products by boat), (7) Non-payment of Night Shift Differential Pay, 8. Non-presentation of D.O 174 Registration Certificate, (8) Non-payment of 13th Month Pay.
Workers' Campout in Intramuros: Desperate Action in Desperate Times
The DBSN workers are currently holding a camp-out infront of the Intramuros offices of the labor department. They are demanding their reinstatement as regular employees and the implementation of labor standards as defined by the Labor Code. The workers are being assisted by the militant Bukluran ng Manggagawang Pilipino (BMP).
BMP president Luke Espiritu concluded, "The DBSN workers have travelled by land, risking life and limb, to hold a campout outside the labor department. It is a desperate act brought by subhuman conditions. They are not only up against supplier/contractor that is connected with the food oligarchs. They are also fighting an employer who is also provincial warlord with no regard for human rights. Their plight emphasizes the futility of Executive Order 51, which was signed by Duterte last Labor Day".