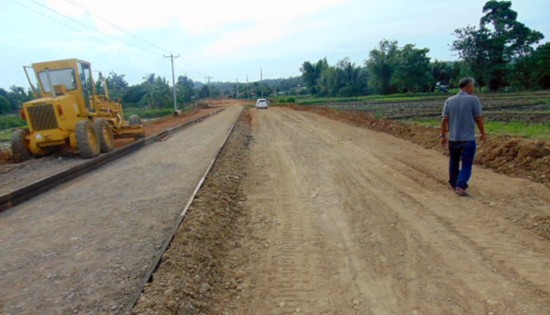 Road Concreting/ Opening of Biliran Diversion Road is on-going with base preparation and installation of forms on one lane in preparation for concrete pouring and embankment on the other lanes and riprapping. As of August 30, 2017, the project has 85% accomplishment under contract with Chu Construction.
Biliran diversion road project 85% completed as of August, this year
By CHELSEA QUIJANO-SALLOMAN
September 22, 2017
NAVAL, Biliran – Travelers are looking forward for the completion of the P43M Biliran Diversion Road project here in this province with expected to reduced travel time of about 20 minutes.
Over the local radio program Kapihan: Pulong-pulong ng Bayan segment hosted by Mrs. Flordelis E. Jackson, PIA Station Manager and Mrs. Lailanie Tupaz, PIA Staff on August 10, Biliran District Engineering Office (DEO) representative, Supremo Victor Sabitsana, Engineer II informed the public that the project is already 85% completed as of August 30, 2017.
"The work was continuous before but suddenly stops its activities because of the problem on permit to enter. Just recently, the problem was solved hence project implementation is resumed", said Sabitsana.
Sabitsana also informed the listeners of the program that Biliran DEO encountered new problem in the implementation of the project due to existing electrical post of the Biliran Electric Cooperatives Inc. (BILECO).
When asked on the 100% completion date of the project, Sabitsana explained that the accomplishment is not yet foreseen because DPWH will depend on when the BILECO will removed the blocking electrical post.
"The office already requests BILECO to transfer the electrical post to fast-track the completion of the by-pass project," explained Sabitsana.
According to Sabitsana, completion of the project will save a lot of time say more or less 20 minutes compared to the old route because the diversion road is a 4-lane structure which can accommodate big volume of passing vehicles.
The population to be served by the road ranges from 120,000 to 135,000, 7 Municipalities and 50 Barangays. It will provide the traveling public coming from Tacloban City, Ormoc City, Baybay City and from other neighboring municipalities going to the northern and eastern part of Biliran Province and vice versa a much safer and faster transport of goods.