Peace Buzz: Call for unity towards peace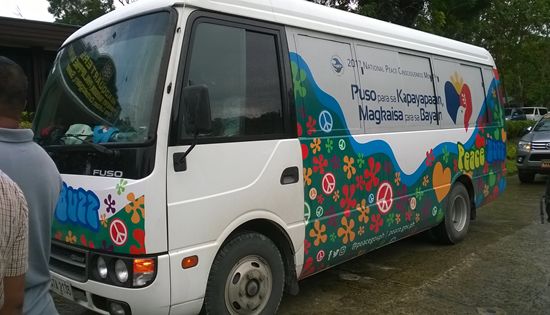 By DPAO, 8ID PA
September 22, 2017
CAMP LUKBAN, Catbalogan City – The Office of the Presidential Adviser on the Peace Process (OPAPP) will launch a Peace Buzz that will kick-off in Baguio City on September 21 and culminates in Marawi City on October 3, 2017 in line with the celebration of National Peace Consciousness Month.
Peace Buzz is an actual bus ferrying resource speakers, cultural group, various stakeholders and OPAPP personnel to conduct People's Conversations, Serbisyo Caravans and other peace-related activities in multiple strategic stopovers.
Catbalogan is the third stopover of the Peace Buzz which is anticipated to arrive on September 25, 2017. Secretary Jesus G. Dureza, Presidential Adviser on the Peace Process is also expected to arrive via chopper in 8ID Headquarters after having an aerial monitoring of OPAPP PAyapa at MAsaganang PamayaNAn or PAMANA Projects in the municipalities of Silvino Lubos, Matuguinao and San Jose de Buan.
Through collaboration of the 8ID, OPAPP, government officials and other key stakeholders, a series of activities will be conducted like Peace Building Conversations involving youth, women and indigenous people, Motorcade/Torch Parade, Solidarity Dinner, Candle-lighting and launching of Peace and Prosperity Roadmap and Peace Caravans in selected conflict-affected areas in Eastern Visayas.
Maj. Gen. Raul M. Farnacio, 8ID Commander once said in his solidarity message, "I encourage all of you as stakeholders to bridge the gap between the government and the issues set forth by the communist rebels. We shall serve as bridging leaders, ready to forge a common understanding and a collaborative response to end the roots of insurgency," he stated.
These major event calls the participation not only the government officials and people of different provinces of Samar and Leyte but also the whole nation to stand as one who would take their part in achieving a just and lasting peace in a conducive developing country.