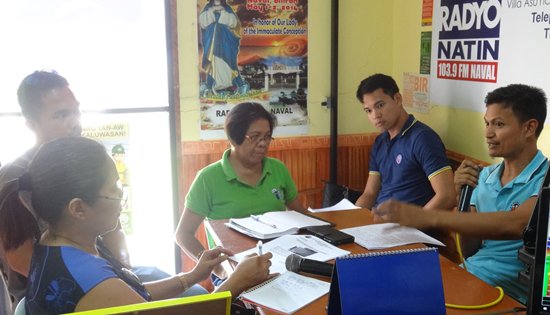 Biliran District Engineering Office (BDEO) representatives headed by Supremo Victor Sabistsana (wearing light blue polo shirt), Engineer II together with Neo Jay Cagabhion, (wearing dark blue polo shirt) Engineer II, and Ginisar M. Romero, Engineer II discuss the updates and accomplishments of 2017 BDEO projects in the district over a radio program Kapihan: Pulong-pulong nga Bayan at Radyo Natin FM hosted by Mrs. Florelis E. Jackson, (wearing green polo shirt) PIA Station Manager and Mrs. Lailanie Tupaz, PIA Staff on August 10, 2017.
DPWH-Biliran DEO delivered project accomplishment ahead of the planned target as of August, this year
By CHELSEA QUIJANO-SALLOMAN
September 22, 2017
NAVAL, Biliran – David P. Adongay Jr., District Engineer of Biliran District Engineering Office has sticked to his promise of fast-tracking the CY 2017 Infrastructure Projects as the district delivered 40.41% accomplishment ahead from the planned target accomplishment of only 31.33% as of August, this year.
The district engineer recently conducted various project inspections within the district for the month of August to make sure projects are implemented properly and in accordance with quality standards.
Adongay revealed that he doesn't have a definite time schedule when conducting project inspections.
"I will be consistently monitoring the projects in an alternate schedule without the knowledge of the contractor in order to evaluate if they are doing their job," said Adongay.
As of August 30, 2017 monitoring report, out of the 57 CY 2017 listed projects based on General Appropriation Act (GAA), Biliran DEO has completed 45 projects with 9 on-going and three Not-Yet-Started (NYS) projects.
According to Engr. Rosario B. Rosete, Chief of Planning and Design Section, one project which is the Rehabilitation of Access Road leading to Naval Port including Right-of-Way (ROW) at Naval, Biliran is now on the 3rd Revision for the Program of Work (POW), Detailed Unit Price Analysis (DUPA) and Plans.
For the Rehabilitation of Maripipi Circumferential Road, Rosete revealed that contract for the project was already forwarded to the Regional Office last August 18, 2017 for signature by the Regional Director.
Meanwhile, the Rehabilitation of National Road Slips, Soil Collapse and Landslide along Naval- Caibiran Cross Country Road is up for implementation soon. Once these projects will be approved, implementation of these projects will be monitored for fast completion.