Stronger PH-Russia relations bank on complementarity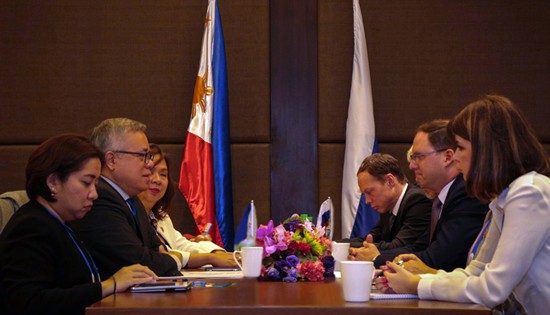 By DTI-OSEC-PRU
September 15, 2017
MAKATI CITY – The Philippine and Russia expressed intention to work closely to enhance trade and investments relations, as well as to explore cooperation areas of mutual interest, as both sides take advantage of the complementarity in each other's industrial strengths.
At the sidelines of the Philippine hosting of the 49th ASEAN Economic Ministers' (AEM) Meeting and Related Meetings, Department of Trade and Industry (DTI) Secretary Ramon Lopez, who also serves as the 2017 AEM chair, convened a bilateral meeting with Russian Deputy Minister for Economic Development Alexey Gruzdev on 11 September in Pasay City.
Both sides discussed measures for enhancing bilateral economic relations arising from the successful visit of President Rodrigo Duterte to Russia and the inaugural meeting of the Philippine-Russia Joint Committee for Trade and Economic Cooperation (JCTEC).
Sec. Lopez conveyed that the Philippine initiative to engage Russia through the JCTEC is in line with the present administration's pursuit for an independent foreign policy, securing collaboration with non-traditional partners. Both sides agreed to conduct more business missions and roundtable discussions with the private sector of both sides to know more about each other's business environment.
The Philippines reiterated the commitment of Russian President Putin to source USD 2.5 billion worth of agricultural products from the country.
Both sides affirmed the importance of complying with respective sanitary and phytosanitary (SPS) requirements for improved market access, as well as agreed to pursue increased agricultural trade in line with the Memorandum of Understanding (MOU) on Agriculture Cooperation signed during the Presidential Visit to Russia in May 2017.
PH encouraged Russia to explore the opportunities from PH industries particularly in production and manufacturing, iron and steel, pharmaceuticals, agriculture, oil and gas, energy, transport and infrastructure.