DTI announces next steps to implement i³S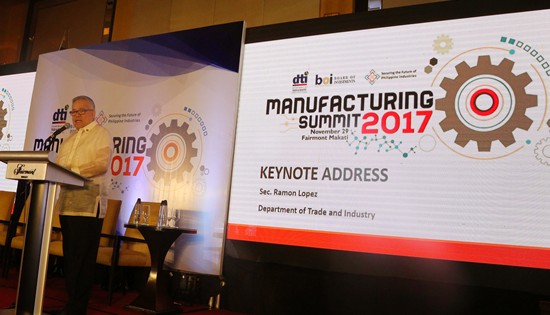 By DTI-OSEC-PRU
December 7, 2017
MAKATI – The Department of Trade and Industry (DTI) successfully conducted the Manufacturing Summit 2017 on 29 November 2017 at Fairmont Makati, bringing together more than 250 stakeholders from the private sector, industry associations, business chambers and stakeholders from the government and academic and research community.
Taking off from the 2016 Manufacturing Summit, which focused on "Trabaho at Negosyo" for inclusive growth, this year's Summit highlighted the remarkable performance of the manufacturing industry, the accomplishment of DTI's Manufacturing Resurgence Program, and the country's new industrial policy dubbed as Inclusive Innovation Industrial Strategy (i³S).
The i³S aims to grow and develop globally competitive and innovative industries with innovation at the front and center of industrial policies and programs supported by pillars consisting of building new industries, clusters, and agglomeration. These will also ensure Micro, Small, and Medium Enterprise (MSME) growth and development, human resource development, and improving ease of doing business and the business environment.
"With intense competition due to rising globalization, regional economic integration, and disruptive technologies, innovation is crucial for the inclusive and sustainable growth of the economy, particularly manufacturing," said Trade Secretary Ramon Lopez.
"Our vision is for the Philippines to have creative and connected communities of different stakeholders like innovators, start-ups, SMEs, and large enterprises that will collaborate to produce new products and services," Sec. Lopez said.
Moving forward, the Trade Chief indicated that DTI will focus on three major strategic actions: establish i3 zones or parks without walls, where universities and industrial hubs could work together and collaborate on innovation initiatives; using fiscal and non-fiscal support to promote local manufacturing of key products that are heavily imported like pharmaceutical products or medical devices; and continue the collaboration with industry, academe, other government agencies and stakeholders in building the inclusive innovation ecosystem.
To encourage more investments and change in mindset, i³S would provide incentives on R&D and innovation, as well as tax deductions on trainings and workers' skills upgrading. There will also be business matching, exhibits, and trade fairs.
Sec. Lopez shared that the establishment of domestic ecozones is vital in building industry clusters that can provide a fertile environment for innovation and inter-firm cooperation leading to competitiveness improvements. Incentives to be provided in domestic ecozones will be rationalized, with applicable domestic taxes like value added and excise will be paid by locators just like other companies located outside domestic ecozones.
"DTI will continue to fine tune the i³S, refine it to fully embed and integrate innovation, and ensure that new technologies can be applied to reduce poverty and promote shared prosperity for all," Sec. Lopez declared.