China's petrochemical company to expand in PH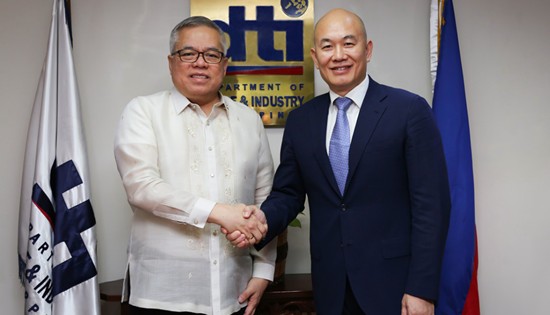 By DTI-OSEC-PRU
December 6, 2017
MAKATI – The Philippines (PH) continues to receive business intentions and expansion projects from large companies based in China (CN).
In a recent meeting between Department of Trade and Industry (DTI) Secretary Ramon Lopez and Handi Group President Hanling Wu, they discussed possibility of investments of the company in a petroleum refining and petrochemical manufacturing facility in the country.
"We welcome business intentions to strengthen our petrochemical industry, which the government actively supports. They expressed strong confidence on the business environment stability during the Duterte administration," said Sec. Lopez.
Handi Group is one of the largest and advanced private specialty oil producers in China. The conglomerate is based in Hainan Province and engages in multiple industries, including oil refinery, chemical industry, trading, investment, and financing.
The group, through its subsidiaries Hainan Handi Sunshine Petrochemical Co., Ltd. (HDS), Hainan Handi Petrochemical Co., Ltd. (HDP), Handi Lubricant Technology (China) Co., Ltd., Handi Sunshine Trading Co., Ltd., and Handi Investment, has established a full scale and long-term strategic cooperation with large international energy companies such as ExxonMobil, Total, Chevron, and BASF.
Sec. Lopez opened the discussion of putting up a facility in Mindanao, which will be suitable for the company's power, land, and accessibility requirements.
Mr. Wu conveyed the need of Handi Group for a pool of technical staff, specifically engineers, from PH and the availability of talents in Mindanao.
"There are a lot of universities in Mindanao that produce quality graduates and professionals in the field of engineering. We have good universities present in all parts of PH," the Sec Lopez said.