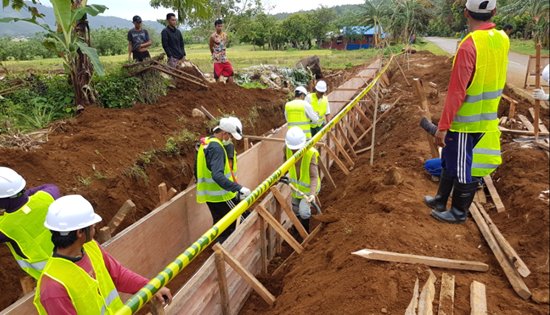 Widening along Naval-Caibiran Cross-Country Road is on-going on the embankment activities and installation of scaffoldings of drainage with an accomplishment of 7% as of March 31, 2017. The projects were prioritized because of its potential for development with the vision to accommodate huge number of road users. The completion of this project will increase the capacity of the existing roads and improves the safety aspect of said sections. This road also leads to the only Provincial Hospital and Port of the Province.
DPWH-Biliran DEO starts construction of CY 2017 regular infra projects
By NEO JAY CAGABHION
April 19, 2017
NAVAL, Biliran – The Department of Public Works and Highways (DPWH) Biliran District Engineering Office (DEO) has already started its CY 2017 Regular Infrastructure project implementation. With over P940M projects to complete this year, this district office is up for the challenge.
As of March 2017, 12 projects out of 52 projects below P50M are already on its full swing. Among these projects are repair of six (6) bridges and extension of two (2) flood control structures.
DPWH-Biliran DEO have also started project implementation on Turn-out (loading and unloading bays) in Kawayan,Biliran and Widening of Naval to Caibiran Cross Country Road specifically within the limits of Capiñahan, Naval, Biliran and the Municipality of Kawayan.
The usual flooding that occurs along Sanggalang Highway will no longer be a problem since the project on rehabilitating the road and reconstructing a larger reinforced box culvert has already commenced. Soon this problem will just be a thing of the past.
These projects are just the start and 19 more projects are expected to start on April this year. Soon, DPWH-Biliran DEO will be able to begin full implementation on the remaining projects and take up the challenge of completing these infrastructures before this year ends.