NPA threats led to massive evacuation in Calbiga
By DPAO, 8ID PA
April 11, 2017
CAMP LUKBAN, Catbalogan City – About 549 household from the barangays of Cambagtic, Bulao, San Mauricio, Guimbanga, Minata, Sinalangtan, Caamlungan, Binangaran, Daligan and Buluan all of Calbiga, Samar fled their respective communities to seek shelter to the town gymnasium from April 4-7, 2017.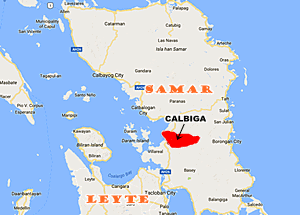 One of the Barangay Chairmen from upper barangay claimed that residents were forced to evacuate on the grounds of threat from communist terrorists that they will conduct an attack against the 87th IB troops at the said area and they were ordered purportedly by the New People's Army to troop down to avoid being caught in a possible crossfire with government troops. The passing of the villagers of Canbagtic to other barangays spread like wildfire of the above mentioned rumors which the residents panicked and also evacuated, triggering a mass exodus to the town gymnasium.
Combined efforts of 87th IB, Municipal Police Station (MPS), Municipal Social Welfare and Development (MSWD) and Local Government Unit (LGU) reached at a dialogue with the evacuees to solve the current situation represented by their respective Barangay Chairmen, agreed to convince the residents to return to their community.
Local DSWD distributed relief goods to the evacuees and the LGU of Calbiga provided trucks for transportation back to their respective barangays. Most of the evacuees returned to their communities but some refused and opted to stay at the covered court as of press time.
Your Army in Eastern Visayas is deploying community peace and developments teams which are encouraging community based initiatives defined by the local communities, with local government units coordinating efforts against insurgency, geared towards presenting long-term solutions while at the same time addressing the immediate needs of the local community.