8ID Intensifies the Bayanihan Team Activity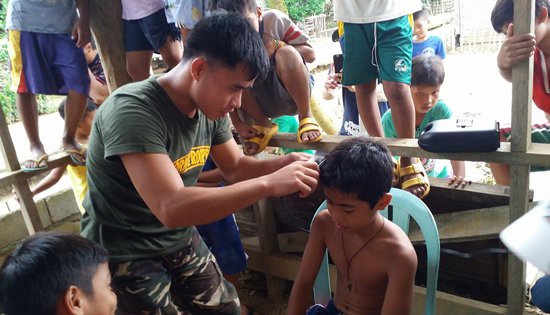 By DPAO, 8ID PA
November 23, 2016
CAMP LUKBAN, Catbalogan City – The Army in Eastern Visayas headed by Brig Gen Raul M Farnacio AFP, intensifies its Internal Peace Security Plan "Bayanihan" that encourages all the Government Agencies and Non-Government Organizations in working together to end up the socio-economic problems of this region.
One of these efforts was the 3-day Bayanihan activity from November 7-9, 2016 conducted by the 14th Infantry (Avenger) Battalion in the barangays of Agsaman, Poblacion, and Cagmanaba, all of Jipapad, Eastern Samar in partnership with the AGAPE Rural Health Program, that delivers basic services such as medical/dental assistance, free medicines, free hair-cuts, film viewing and distribution of slippers, clothes, and reading glasses. AGAPE is a Non-Government Organization composed of Christian volunteers from Asia and US whose mission is to help the less fortunate that cannot afford to sustain their medications and basic needs.
As a result of the activity, the people of Jipapad benefited from a total of 1,078 medical check-ups with free medicines, 78 tooth-extractions, 30 hair-cuts, 330 reading glasses, and 340 pairs of slipper.
In ensuring the safety of the volunteers of AGAPE, the Avenger Battalion served as their security all throughout the activity. The security effort of the troops was not made against the CPP-NPA but rather to prevent any lawlessness violence that may arise in the area during the activity.
Brig Gen Farnacio says in his message, "Your Army in Eastern Visayas have not committed any violations against the observance of ceasefire. We only wanted to make sure that these good Samaritans will be safe all throughout the activity against lawlessness. Instead of criticizing and making false story against the military troops, let the people receive such services and stop preventing them away from the government. Moreover, we are encouraging more kind and whole hearted people especially the Local Government Units to support and help these people living in far flung areas."
"This is the time to be united in our desire of addressing the poverty problem of the region. Let's help together in building a peaceful and developed Eastern Visayas", Farnacio added.