WORLD NEWS
Philippines based brand impressed Paris with a stunning collection on the Seine river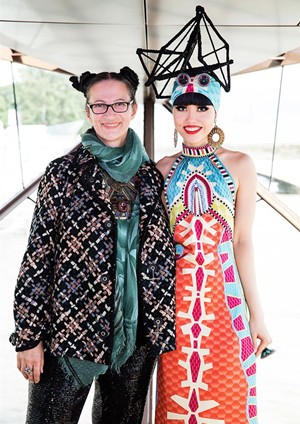 Miranda Konstantinidou joined "Queen of the catwalk" Jessica Minh Anh on her iconic floating catwalk
Press Release
June 17, 2016
PARIS, France – Jessica Minh Anh celebrated another phenomenal catwalk success in the fashion capital yesterday with Philippines based brand Miranda Konstantinidou as J Summer Fashion Show 2016 lightened up the Seine River.
Guests were strategically seated facing the multi-faceted glass windows of Le Jean Bruel to watch models walking in front of them as if they were walking on water.
A perfect portrait of modern beauty with limitless energy, Jessica Minh Anh opened the highly anticipated showcase in a striking multi-colored exotic creation by Miranda Konstantinidou. Following the stunning catwalk producer is a youthful line up of models in intricate silk dresses teamed with architecturally cut statement jewelry. Miranda's collection, which added a lot of excitement to classic chic, defined the concept of "extroverted but relaxed" luxury.
J Summer Fashion Show 2016 also premiered innovative designs by Lebanese haute couturier Antoine Kareh, Polish designer Teresa Rosati, Pakistani talent Syeda Amera, Icelandic jewellery brand NOX, Saudi Arabian designer Ot Kutyr Turk Jadallah, and Ukrainian brand LaFress.
The red carpet event was supported by Compagnie des Bateaux Mouches, DJ Battle, SLA Academy Paris, Neville Salon London, Opéra Cadet, Singer France, The Invite Shack London, Surrey Banners, and First Hotel Paris among others.
For more info, visit www.jmodelmanagement.co.uk and follow @jessicaminhanh on Instagram for the catwalk video release.