DAR-8 commemorates 28th year of CARP implementation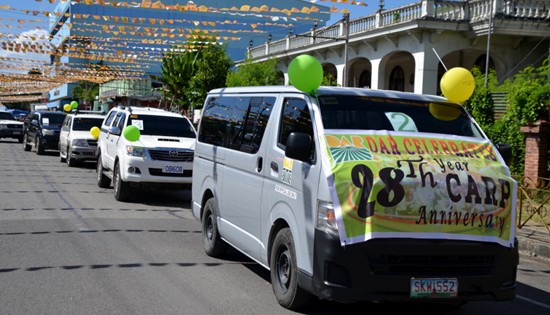 By JOSE ALSMITH L. SORIA
June 16, 2016
TACLOBAN CITY – The Department of Agrarian Reform (DAR) in Eastern Visayas kicked off this morning (June 15) its commemoration of the 28th year of implementation of the Comprehensive Agrarian Reform Program (CARP) in the country with a motorcade around the city.
According to DAR-8 Regional Director Sheila Enciso, the celebration will just be a simple one, highlighting the transformation of agrarian reform beneficiaries from mere farmers to entrepreneurs.
On June 21, a mini-trade fair at the DAR Regional Office compound will be opened to the public showcasing various products ranging from organic crops to processed foods, handicrafts and organic fertilizers produced by the different agrarian reform beneficiary organizations (ARBOs) throughout the region.
These are now the results of the various trainings and assistances extended to them under the Program Beneficiaries Development component of CARP, Enciso said.
Among the assistances extended to them was thru the Agrarian Reform Communities Connectivity and Economic Support Services (ARCCESS) which was a package of support services that include common service facilities and trainings to transform them into agri-entrepreneurs, she added.
Another assistance extended to them was the Complementary Assistance for the Rehabilitation and Empowerment (CARE) of small holder farmers wherein they were taught how to convert trash into cash by producing organic fertilizers using African night crawlers, Enciso further added.
Republic Act 6657 or the Comprehensive Agrarian Reform Law (CARL) was signed on June 10, 1988 by then President Corazon Aquino and took effect five days later. It was amended twice by Republic Acts 8532 and 9700.
CARL expanded the scope of the Marcos agrarian reform program to cover all agricultural lands regardless of the tenurial status.
At the moment, DAR has covered and distributed 430,115 hectares of agricultural lands in Region-8 to about 238,950 agrarian reform beneficiaries under CARP's Land Tenure Improvement component.