WORLD NEWS
Fashion extravaganza lit up Seine River in Paris after the flood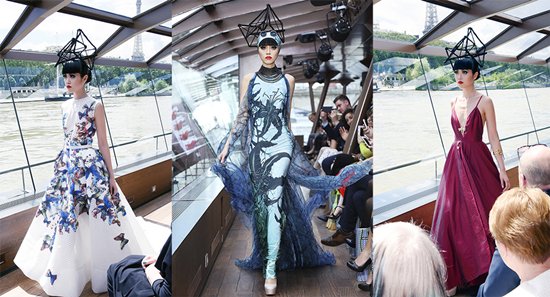 Jessica Minh Anh celebrated Pret-a-Couture and innovative craftsmanship on her iconic floating catwalk
Press Release
June 16, 2016
PARIS, France – Producer of the world's most innovative runways impressed again yesterday with her famous floating catwalk on the Seine River.
J Summer Fashion Show 2016, which premiered seven unique haute couture, pret-a-couture, and diamond collections against the moving backdrop of Paris, has strengthened Jessica Minh Anh's position as a global influencer. According to Paris Match's editor Catherine Schwaab, Jessica is electrifying the fashion world with her extraordinary vision and irresistible charm.
Alongside Sydney's Ocean Catwalk earlier this year, J Summer Fashion Show has confirmed Jessica Minh Anh's theme of 2016 to be "catwalk on water". Guests were strategically seated facing the multi-faceted glass windows of Le Jean Bruel to watch models walking in front of them as if they were walking on water.
A perfect portrait of modern beauty with limitless energy, Jessica Minh Anh opened the highly anticipated showcase in a striking multi-colored exotic creation by German sensation Miranda Konstantinidou. Following the stunning catwalk producer is a youthful line up of models in intricate silk dresses teamed with architecturally cut statement jewelry. Miranda's collection, which added a lot of excitement to classic chic, defined the concept of "extroverted but relaxed" luxury.
Returning to Jessica Minh Anh's iconic catwalk, Pakistani talent Syeda Amera presented a glamourous pret-a-couture collection inspired by Eiffel Tower's magnificent structure and its decorative grillwork arches. Each design showcased intricate embroidery, three dimensional sequins embellishments, and daring cuts. Using handcrafted details on luxurious fabrics, Syeda's collection added edge and elegance to the spectacular event.
Next, Polish designer Teresa Rosati transformed the classic look into the new age's romanticism using natural silk, lace, and transparent fabrics. Her black and white collection called "Faces of love" introduced modern femininity with deep necklines and polished silhouettes.
Icelandic jewelry designer Jóhannes Ottósson showcased a captivating diamond studded gold collection inspired by the majestic nature of his homeland. The clean and sleek designs of NOX defined true contemporary classic. A master of balancing beauty and rarity with distinctive style and impeccable craftsmanship, Johannes successfully portrayed effortless elegance and allowed the diamond's radiance to shine supreme.
Accompanying the exquisite jewelry pieces is a floral silk collection by Ukrainian brand LaFress, who inserted beautiful lightness to the grand catwalk. The creative designs, which were inspired by the epic scenery of soft snow on mountaintops, portrayed a mix of emotions and imaginations through the use of natural colour pallet with some darker detailing. The emergence and blossoms of individuality was the center of the collection.
Conceptualizing roses as an enduring beauty in the harshest of environments, Saudi Arabian fashion house Ot Kutyr Turk Jadallah presented a timeless collection using red and beige alongside their signature black and white colour scheme. Soft fabrics were artistically mixed with crystal embroidery to convey both fragility and power. Turk Jadallah's charming creations added sophistication and refinement to Jessica Minh Anh's exclusive runway.
The mesmerizing finale collection by Lebanese haute couturier Antoine Kareh was inspired by the beauty of the butterfly and the freeing nature of the dandelion. The designer revealed a progressive mix of multiple layers and architectural cuts, which accentuated a woman's body and created endless femininity. Saving the best for last, Jessica Minh Anh appeared as a vision in a breath-taking white gown embroidered with thousands of multi-coloured butterflies, paired with a matching long cape. The magnificent creation, which highlighted Jessica's perfect curve, left audience in awe of class, sensuality, and ultimate glamour.
J Summer Fashion Show 2016 marked Jessica Minh Anh's 14th highly successful showcase since her history-making catwalk on London's Tower Bridge. The queen of catwalk stunts, who has continuously captured the world's attention with her theatrical productions, has already started planning the next phenomenon in the United States. "I believe the most outstanding creations should be showcased at the best of locations with exceptional catwalk concepts. I'm determined to make it a reality every time" said Jessica Minh Anh.