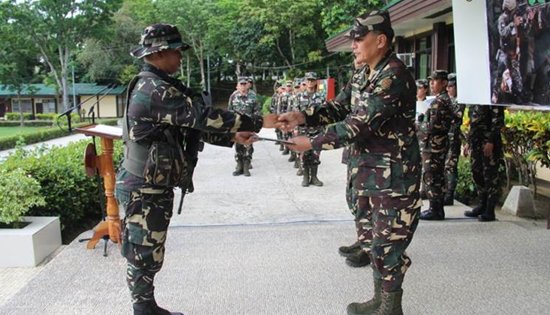 Col. Cesar Idio, assistant division commander, 8ID assisted by Col Jose Narciso, chief, GSMO pinned medals and award certificate to the winners of the Squad Challenge 2016 at Headquarters 8ID, Camp Lukban, Catbalogan City on July 15, 2016.
63rd IB tops 8ID squad challenge 2016
By DPAO, 8ID PA
July 18, 2016
CAMP LUKBAN, Catbalogan, Samar – The 8th Infantry (Stormtroopers) Division, Philippine Army culminated its five-day Squad Challenge 2016 during the Flag Retreat ceremony here, July 18.
This event is a prelude to the 28th Founding Anniversary of the Command and was participated by rifle squads from 14th Infantry (Avenger) Battalion; 20th Infantry (We Lead) Battalion; 43rd Infantry (We Search) Battalion; 63rd Infantry (Innovator) Battalion; 78th (Warrior) Battalion; 87th Infantry (Hinirang) Battalion; and the three Division Reconnaissance Companies.
Major General Jet B Velarmino AFP, Commander, 8ID was represented by Col. Cesar M Idio, Assistant Division Commander, 8ID as keynote speaker and further administered the awarding of prices to the winners assisted by Col. Jose H Narciso, Chief, Governance and Strategy Management Office and Lt. Col Peter Burgonio, Acting Assistant Chief of Staff for Operations.
The competition was divided into five phases: Individual Readiness; Battle Drills; Formation and Movement Techniques; Disaster and Rescue Operation; and Bayanihan Team Activities.
For the infantry battalion contingents, the champion is awarded to 63rd IB for being the best rifle squad and the Second placer is awarded to Alpha Company, 43rd IB, while the Third placer is awarded to Alpha Company 78th IB.
Special awards were also given by the Command for the following: Best Squad in Individual Readiness is awarded to Charlie Company, 63rd IB; Best Squad in Formation and Movement Techniques is awarded to Charlie Company, 87th IB; Best Squad in Battle Drills is awarded to Charlie Company 63rd IB; Best Squad in BTA and DRO is awarded to Alpha Company, 43rd IB.
Moreover, for the winners of Division Reconnaissance Companies category: the Champion is awarded to 81st DRC as the Best DRC and the Second placer, 82nd DRC; while the Third placer is awarded to 83rd DRC.
All participants who have strived for excellence, along with all the winners were able to received trophies, medals and cash rewards during the awarding ceremony in the Division.
In a message of Major General Jet B Velarmino, AFP that was delivered by Col Cesar M Idio, said, "This Squad Challenge is a test of our skills and collective effort to adopt in real combat situations." Subsequently, this is in adherence to the Commanding General, Philippine Army's guidance to maintain our squad's permanency being the cutting edge of the Army.