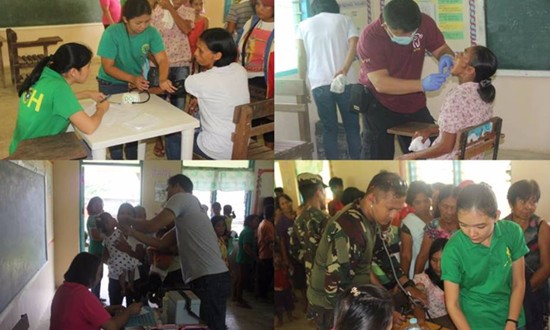 Medical and dental consultation during the Peace Caravan at Brgy. Buglosan, Las Navas, Northern Samar on July 6, 2016.
433 populace in Las Navas help out by 20IB through peace caravan
By 20th Infantry Battalion, 8ID PA
July 14, 2016
CATUBIG, Northern Samar – The 20th Infantry "We Lead" Battalion in collaboration with the Provincial Health Office (PHO) and Department of Health (DOH) of Northern Samar, LGU-Las Navas and other government agencies has spearheaded the conduct of "Peace Caravan" held in Barangay Bugtosan, Las Navas, Northern Samar on July 6, 2016.
The objective of this activity is to deliver the basic services to the geographically isolated barangays of Bugtosan, Bugay and Lourdes, all of Las Navas. Numerous recipients benefited in the services such as 208 on medical consultation, 37 on tooth extraction, 38 babies on immunization and 150 children on feeding program.
Correspondingly, they also conducted film showing and consultative dialogues on land titling and environmental protection while the "Payapa at Masaganang Pamayanan" (PAMANA) gave updates on the progress on infrastructure projects, skills developmental training, and delivery of social welfare and services.
Also included in the caravan are Lt. Col. Hilarion G. Palma, Battalion Commander of 20IB together with the Bayanihan Teams; Dr. Rommel Francisco MD; Dr. Alexander Lucban MD; Dr. Ricardo B. Bocar; Dr. Ma. Teresita Fe Saises of Provincial Health Office of Northern Samar; Elmer Siervo of 803rd Press Corps; SPO4 Romeo Acedera of PNP- Las Navas; Ecel Bantilo of OPAPP; Melba Arino of DENR; Engr. Gil D. Herrera Jr of DPWH; Yolly Pajenado of TESDA-LNHS, and Mercy A. Castillo of Provincial Social Welfare and Development.
Dr. Francisco of DOH has expressed his deep gratitude to the 8th Infantry (Stormtroopers) Division, Philippine Army especially to 20th Infantry (We Lead) Battalion for bringing the services to the people. While Hon. Brgy Capt. Roliza Ambon remarked "I can't find the right words to express our appreciation to the Philippine Army who have helped us a lot in a convergence through the Peace Caravan."
Lt. Col. Palma said "Your soldiers had transformed as peace builders and made a difference in the lives of those vulnerable including those in dire need of government basic services".
"The Philippine Army is an institution that promotes good governance and excellence in public service. We are composed of servant soldiers and effective partners of local government units and civil society organizations with coequal obligation to serve the people and secure the land," Palma added.