8ID mountain bike trail challenge ride for a cause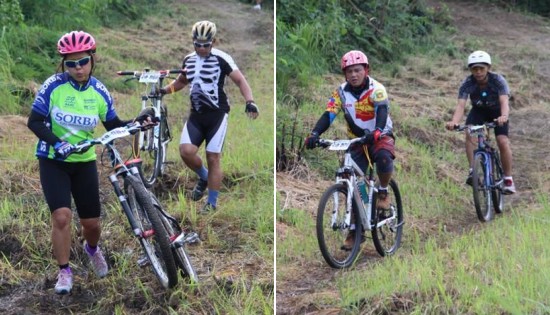 By DPAO, 8ID PA
July 13, 2016
CAMP LUKBAN, Catbalogan, Samar – A trail bike challenge of the 8th Infantry (Stormtroopers) Division, Philippine Army draws support from the local populace of Eastern Visayas held at Buri Air-Strip, CAAP, Brgy Cabugawan, Catbalogan City, Samar on July 10 2016.
It was participated by the contingents from 801st Infantry (Bantay at Gabay) Brigade headed by Col Perfecto M Rimando, Brigade Commander; 802nd Infantry (Peerless) Brigade represented by Lt. Col. Allan Jose L Taguba and 803rd (Peacemaker) Brigade headed by Col. Mario S Lacurom, Brigade Commander; Samar Off-Road Bikers Association (SORBA) from Calbayog City; Samar Mountain Bikers Association (SAMBA) from Catbalogan City; Philippine Coast Guard; Philippine National Police; and other stakeholders.
The event is divided into two categories.
For the female category, the winners are: 2nd Lieutenant Angelyn Samaniego - 1st Place; 1st Lieutenant Hiesa Obispo - 2nd Place; Angela Kyla Saranillo - 3rdPlace; 2nd Lieutenant Jane Buenaventura - 4th Place; and Liezel Gonzaga - 5th Place. For the male category, the winners are: Mark Abay - 1st Place; Reynold Bestiola - 2nd Place; Corporal Marlon Raquel - 3rd Place; Private First Class VirgilioTamayo - 4th Place; and Private First Class Ritchie Calamba - 5thPlace.
A special award is also given to the number 28 finisher in the person of Staff Sergeant Cristobal Movella significantly because it represents the 28th founding anniversary of 8ID. Moreover, the number 8 finisher, 2nd Lieutenant Julius Sabas received a medal because it represents the 8ID.
The MTB Riders joined the ride to support the cause of the "8ID Kawal Foundation" in extending financial assistance to our noble soldiers who enormously sacrificed their lives to preserve the peace in our community and protect the people. The participants rode for fun and experienced the challenges brought by the muddy, stony and single-track trails composed of uphill and downhill, with stunning landscapes and scenery of the Island of Buri. The activity was an opportunity to develop camaraderie between civilians and military as well as to bring people together to create a powerful, united voice for biking and its benefits.
"When you sign up for the Stormtroopers Trail Bike Challenge, you become a hero for helping our soldiers in the frontlines," Maj. Gen. Velarmino said.