CARD MRI hosts Media Study Tour in Laguna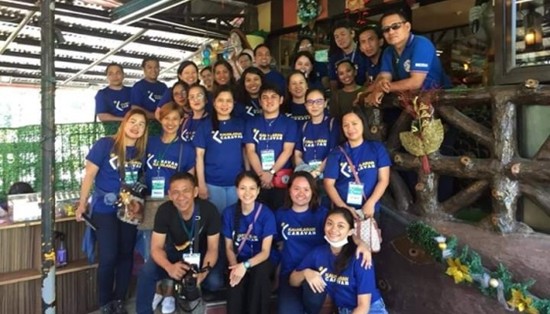 By JEFFREY C. TANDINGAN
March 13, 2020
SAN PABLO CITY – The CARD MRI Publishing House hosted a study tour on the microfinance and community development programs of CARD Mutually Reinforcing Institutions (CARD MRI) on March 5-6, 2020 in Laguna. This was participated by a total of 10 media practitioners from Northern and Southern Luzon.
Said CARD MRI Publishing House President Marilyn M. Manila, "The study tour is our innovative way of presenting to our media partners our other social development services apart from microfinance." She also explained that media practitioners have contributed a significant role in disseminating accurate information about CARD MRI's mission in pushing its charge in eradicating poverty and uplifting the lives of its millions of clients.
The Kaunlaran Caravan Visit
The study tour is an opportunity for media practitioners to experience firsthand CARD MRI's community development programs and to gather factual newsworthy information on microfinance and beyond.
The schedule of the study tour coincided with Kaunlaran Caravan, a quarterly activity wherein CARD MRI community development programs and services are are offered.
"Through this activity we want our media partners to witness our actual efforts that benefit our growing clients in rural communities in the country," Manila added.
The study tour also allowed the participants to attend a center meeting, a CARD methodology that enables clients to meet on a weekly or monthly basis for collection of loan payments and savings. The center meetings are also the venue where Credit with Education (CwE) is conducted. These are learning sessions wherein clients are provided information and knowledge on various topics such as proper handling of finances, disaster preparedness, health and wellness, among others.
The participants were also able to interview CARD MRI's successful microfinance clients including Myrna Manalo, a taka maker from Sta. Maria.
Media Briefing
A media briefing was also facilitated were the invited media practitioners had the opportunity to ask questions to the key management staff of selected institutions. One of the executive officers present during the briefing is Elma Valenzuela, CARD MRI Rizal Bank President.
"CARD MRI ensures that our products and services are tailored-fit to the needs of our clients. This is why we are investing on innovation and technology so that we can offer services that are accessible and convenient for the people we serve," said Valenzuela in response to one of the regarding new technologies that CARD is now offering.
Through the Media Study Tour, CARD MRI Publishing House hopes to continue its fruitful partnership with media practitioners in providing the public with development-oriented information. Since 2013, CARD MRI has held 15 study tour for media practitioners.