46IB foils ambush of CNTs to COVID-19 frontliners in Calbiga, Samar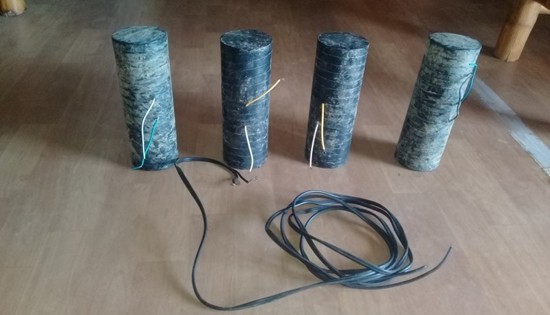 By DPAO, 8ID PA
April 7, 2020
CAMP LUKBAN, Catbalogan City, Samar – Four improvised explosive devices (IEDs) were discovered by the elements of the 46th Infantry (Peacemakers) Battalion (46IB), 8th Infantry Division (8ID), Philippine Army foiling the attempt of the CPP-NPA Terrorists (CNTs) to conduct an ambush against the government forces in the vicinity of Brgy. Hubasan, Calbiga, Samar on April 6, 2020.
An information was obtained from a concerned civilian that the CNTs are planning to conduct an ambush using the aforementioned IEDs targeting the troops of 46IB who are serving as frontliners in battling COVID-19 pandemic. The mines were placed along the only trail connecting barangays Hubasan and Binanggaran of same municipality.
The residents expressed their utmost gratitude to 46IB as the troops prevented the IEDs to explode which could have wounded, or worst, could have taken their lives just like what happened in Borongan, Eastern Samar.
Lieutenant Colonel Rhomel R. Langcauon, Commanding Officer, 46IB remarked, "We are thankful that a concerned citizen alerted our troops about the IEDs planted by the NPA. This is evidently laid to victimize frontliners as all our troops are conducting COVID-19 prevention efforts. This could have harmed or killed the civilians passing by the said trail."
Colonel Camilo Z. Ligayo, Commander of 801st Infantry Brigade said, "We will continue to protect the people of Samar from the terroristic acts of the NPA such as the planting of IED during this Covid 19 crisis. We thank the people for their help and we call on them to unite against all forms of terrorism".
Major General Pio Q Dinoso III, Commander of 8ID, stated that, "We condemn, in the strongest terms possible, that despite the existing unilateral ceasefire and global COVID-19 pandemic crisis, the planting of IEDs here in Samar and recent attacks against uniformed personnel in Luzon and tribal leaders in Mindanao; the CNTs are consistently displaying barbaric acts, violating human rights and disregarding the safety of the civilians who might turn victims just like what they did in Borongan a few months ago."
It may be recalled that four individuals were killed in an IED exploded by NPA in Borongan, Eastern Samar in December 13 last year. The fatalities were three civilians including an elderly woman, a van driver and another woman who expired in the hospital while the fourth fatality is a policeman. Wounded were 14 others including an infant and two other children.