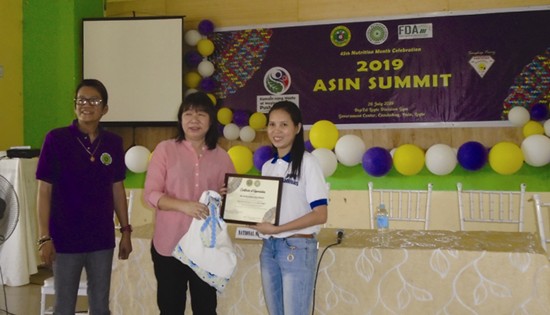 RNPC Dr. Catalino P. Dotollo Jr. and DoH Dr. Lelibeth Andrade award a plaque and token to Felma Omalay of Salinas Foods Inc., distributor of WYD Iodine Checker, for her participation in the Asin Summit.
Need for WYD Iodine Checker highlighted in Asin Summit
By JACK C. GADAINGAN
September 21, 2019
PALO, Leyte – The one-day "Asin Summit" on July 26, 2019 attended by primary health /nutrition players in the region among them: municipal health officers (MHOs), provincial, city and municipal nutrition action officers (P/C/MNAOs), nutritionists/dieticians and rural sanitary inspectors (RSI), and salt-traders and representatives from government nutrition-partner agencies – particularly those representing the Regional Bantay Asin Task Force (RBATF), highlighted the lack of a most important and needed apparatus in successfully implementing the Asin Law – the WYD Iodine Checker!
Republic Act No. 8172 or ASIN Law among others mandates: to the elimination of micronutrient malnutrition, particularly iodine deficiency disorders; to ensure that only iodized salt is available in the market for human and animal consumption; to require salt producers/manufacturers, importers, to iodize the salt they manufacture, produce, distribute, trade and/or import; and require salt re-packers to repack and sell only iodized salt.
It was gathered in the region, that samples of Table Salt shipments gathered from the ports of entry around Eastern Visayas – and those from the salt traders are transported for checking of iodine content at the Department of Science and Technology (DOST) Region 8, here and at the Food and Drugs Administration (FDA) in Cebu City.
It was learned that prior to Super Typhoon Yolanda on November 8, 2013, a WYD Iodine Checker was provided to the Philippine Ports Authority (PPA) Port of Tacloban, an RBATF member, for the instant checking of iodine content of Table Salt shipments arriving on-the-spot.
Further that despite the consistent discrepancy of 8-point on the analysis between the two government laboratories on tests of samples from Tacloban Port with the FDA Cebu results higher, still both results show that Table Salt arriving in Eastern Visayas, is still very far shy of iodine content, as required by law that is 30-70 ppm (parts per million).
A participant salt-trader to the summit named Felma Omalay representing the Salinas Foods Inc., made a power-point presentation on the "Importance of Iodized Salt." She claimed that Salinas launched the FIDEL program as a corporate social responsibility with the Department of Health (DOH) in 1993 that calls for iodization of all salt in the market. Likewise, she claims that their company is the sole distributor in the Philippines of WYD Iodine Checker and its reagents, available at P50,000 only.
As it became apparent there is need to organize or to reactivate the Provincial/City and Municipality Bantay Asin Task Forces (P/C/MBATFs) as well, in order that all points of importation or shipment-entry shall be effectively and routinely monitored for the quality of salt iodization – and to immediately take the suitable corrective action when necessary, health and nutrition managers and local government units (LGUs) in the region have to invest on a WYD Checker, for the successful implementation of RA 8172 or Asin Law.