Public hearing on minimum wage issue conducted in Tacloban City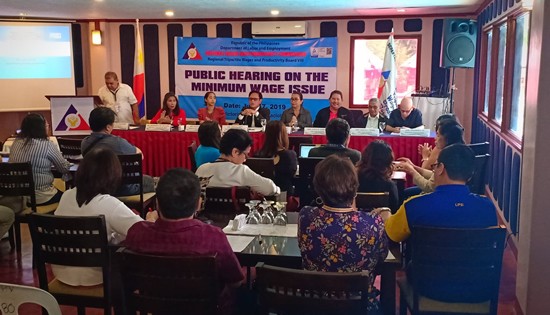 By Norma Rae Costimiano, DOLE-8
July 18, 2019
TACLOBAN CITY – After series of public consultations in different areas of Eastern Visayas, the Regional Tripartite Wages and Productivity Board (RTWPB) in Region VIII has conducted a Public Hearing on the minimum wage issue on 17 July 2019 at Patio Victoria, San Jose, Tacloban City.
Director Yahya A. Centi, Regional Director of the Department of Labor and Employment Regional Office VIII and Chairman of the RTWPB VIII, presided the said public hearing.
Director Centi informed that the board did not receive any petition for a wage increase from the labor groups and that said public hearing is initiated by the RTWPB VIII.
"As of date, this wage board has not actually received any petition from our labor sector. However, considering it has been a year already since our existing wage order was issued, we deemed it necessary to conduct all those consultations in Leyte, Samar and Biliran islands", said Director Centi.
Aside from Director Centi, also present during the event were the members of the wage board, namely: Director Meylene Rosales of the National Economic Development Authority (NEDA), Ms. Anthea Aivi Borbon representing Director Celerina Bato of the Department of Trade and Industry (DTI), Atty. Miguel Tezon and Mr. Efren Gabriola representing the Labor Sector and Mr. Orlando Uy representing the Management Sector.
The public hearing was attended by more than sixty (60) participants from the labor, management and government sector.
Ms. Bernardita M. Navarra, Head of the DOLE North Leyte Field Office, gave her opening remarks.
Different topics were discussed for the appreciation of the participants. NEDA Director Rosales discussed about the latest economic condition of the region while Ms. Borbon of DTI provided updates on the prices of basic good commodities and its suggested retail price. Lastly, Director Perante of PSA tackled the different indicators significant in setting the minimum wage such as inflation rate and consumer price index.
The public hearing was capped with an open forum wherein different questions were raised, one of which was from Mr. Felipe Ygrubay, SB Member of Palo, Leyte. He inquired why there was no petition received considering there are labor sector representatives sitting in the wage board.
Atty. Tezon answered that as members of the wage board, they are not allowed to file petitions.
"Well, we are representing the labor sector so we can have a voice in setting up the minimum wage but we are not allowed to file petitions. The reason perhaps why no petition was filed is simply because our labor groups trust us", said Atty. Tezon.
Immediately after the public hearing, the RTWPB convened to finally discuss the issuance of new minimum wage order for workers in Region VIII, details of which are yet to be revealed by the board.