SPECIAL REPORT
340 skilled, informal sector workers in Sogod get P4.3M livelihood aid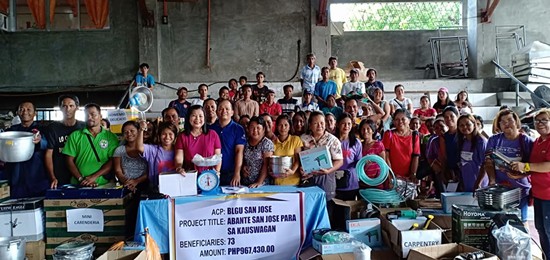 By Norma Rae Costimiano, DOLE-8
July 17, 2019
TACLOBAN CITY – The Department of Labor and Employment Regional Office VIII through its Southern Leyte Field Office has successfully awarded livelihood assistance to some three hundred forty skilled and informal sector workers from six barangays of Sogod last 27 June 2019 at Sogod Gymnasium, Sogod, Southern Leyte.
The amount of livelihood projects awarded during the turnover ceremony totaled to P4,357,135.00 charged under the DOLE Integrated Livelihood Program (DILP) funds of the regional office.
The approved livelihood projects under the said funding include the following: Rice Production Tractor with Machine Thresher and Blower amounting to P200,000; Abante San Jose Para sa Kauswagan amounting to P967,430; Micro Livelihood Project for Skilled Workers of Barangay Pandan amounting to 782,585; Dugang Negosyong Panginabuhian para sa Concepcion I amounting to P284,970; Starter Kits para sa Proyektong Panginabuhian sa Barangay San Roque amounting to 1,065,050; Sustainable Livelihood Development Project of Barangay Milagroso amounting to 447,905; and Micro Livelihood Project of Barangay Rizal amounting to P609,195.
Different tools, equipment and materials were released to the beneficiaries for the implementation of the micro livelihood and diversified projects which include Dressmaking, Vulcanizing, Welding, Mini Carenderia, Haircutting & Cosmetology, Barber Shop, Dried Fish Vending, Fruits & Vegetables Vending, Painting Services and Rice Production, among others.
Present to grace the significant occasion were Atty. Cecilio I. Baleña, DOLE RO VIII OIC-Assistant Regional Director, Ms. Marites Z. Viñas, DOLE-SLFO Head, Honorable Jose Ramil Golo, Vice-Mayor of Sogod and Ms. Velma O. Duguil, Sogod PESO Manager.
Also in attendance to witness the simple ceremony were the chairpersons of the recipient barangays, namely: Jeffrex R. Gan of Brgy. San Jose, Reynaldo A. Paloguer of Brgy. Pandan, Lyn T. Guias of Brgy. Concepcion I, Adelina P. Tadtad of Brgy. San Roque, Antonio S. Tagoon of Brgy. Milagroso and Corneila M. Telin of Brgy. Rizal.
Atty. Baleña in his message happily congratulated all the beneficiaries for their starter kits. He likewise thanked the local government unit of Sogod for being an active partner of DOLE RO VIII in delivering its employment and livelihood programs in the municipality.
"Allow me to congratulate all our beneficiaries for their new sources of income. I hope you will do your best to be successful in your respective businesses. And of course to our officials of LGU-Sogod, thank you for always being supportive to our programs especially our livelihood program", said Atty. Baleña.
Vice-Mayor Golo in response thanked DOLE RO VIII for all the help it extends to the municipality.
"We are so blessed to have DOLE as our strong partner in uplifting the lives of our constituents here in Sogod. These livelihood assistance that our workers received is a proof of how serious our government is in serving the people especially those in need", Hon. Golo said.
All the beneficiaries present were happy and elated after receiving the livelihood aid. The smiles on their faces were beaming, a sign of new hope and determination to live better lives.
The six recipient barangays were all first timers in availing livelihood assistance from DOLE RO VIII.