DPWH-Samar I completes flood control structures along Panlayahan Creek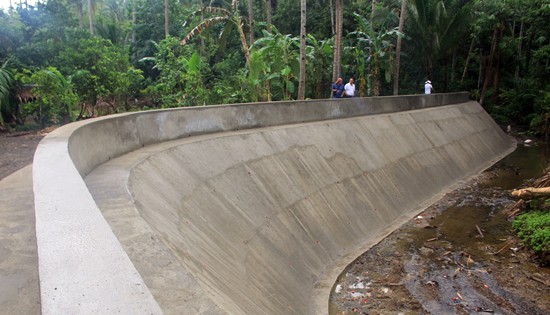 By CHENZI MAY D. UY
August 23, 2019
CALBAYOG CITY – Torrential rains cause surface water to overtop the channels of Panlayahan Creek, which spill onto the adjacent road and nearby settlements.
Needless to say, the flooding is a perpetual problem for some of the residents of Barangay Panlayahan in Calbayog City, Samar.
To address the plight of Calbayognons in this part of the city, DPWH-Samar First District Engineering Office (SFDEO) has constructed reinforced concrete flood control structures along said creek, totalling 213 linear meters.
The project, amounting to P20 million, was completed way ahead of schedule. It is one of the first projects awarded under the General Appropriations Act (GAA) of 2019 completed by the DEO.