DPWH-Biliran DEO completes access road project in Brgy. Agpangi connecting Sitio Pongon in Naval town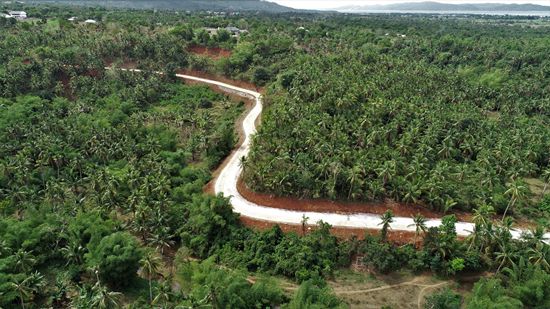 By DPWH-Biliran
April 10, 2019
NAVAL, Biliran – The construction of a two-lane access road project connecting the National Road Junction (NRJ) of Brgy. Agpangi to Sitio Pongon in Naval town is now completed.
The project is under the convergence program of the Department of Public Works and Highways (DPWH)- Biliran District Engineering Office (DEO) and the Department of Trade and Industry (DTI) in support of the agribusiness in the Province of Biliran.
District Engineer David P. Adongay Jr. said that the place has potential for coconut-based and cassava-based processing thus prioritized for implementation. This project includes the construction of 1-kilometer two lane road with slope protection and road opening.
According to Adongay, the construction and opening of roads is a necessity.
"One of the significance of the opening of the access road leading to industrialized zones is to ensure that the road facilities will aid the growth of trades and industries in the province where it has potentials for manufacturing in areas outside the urban center," said Adongay.
The completed P22.9M access road project under 2018 funding will provide a wider, safer and faster transport of the agricultural products.
Meanwhile, Engr. Rosario B. Rosete, Chief of the Planning and Design Section revealed that the office is conducting preliminary and detailed engineering activities for a road stretched in Sitio Pongon for possible funding under FY 2019 GAA.
DPWH-Biliran DEO implements a total of five projects leading to trades, industries and economic zones under 2018 funding. Four of these, were completed in 2018. These are the P17.2M access road Caraycaray-Cabungaan-Libtong, P23M access road Villa Caneja-Anislagan Ceramics Producers Association (ACPA), P27.8 NJR Villa Consuelo connecting to Libtong Road and P32.2M Villa Caneja connecting to Kahukaw, all in Naval town.
"With good roads already in placed leading to these trade centers plus good supply of waters, no doubt Biliran Province will become one of the industrialized province in Region VIII," Adongay said.