Pre-construction conferences to heighten awareness on DPWH projects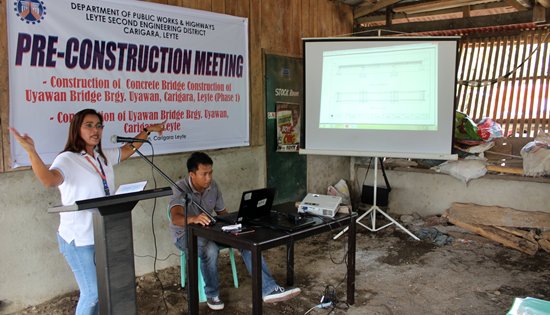 By DPWH 2nd LED
April 10, 2019
CARIGARA, Leyte – Intensifying the awareness of the residents on various infrastructure projects, the Department of Public Works and Highways (DPWH)-Leyte Second District Engineering Office conducts continuous pre-construction conferences within the second district of Leyte.
The pre-construction conference involves the introduction and discussion of the project design and overview.
"As we wait for the approval of 2019 budget, we are doing this activity to present our projects to the community," District Engineer Gerald Pacanan said.
Pacanan stated that the pre-construction activities such as conferences must be part of the implementation to get the public be aware and involved in the process.
"This would be an avenue to air concerns and issues of the residents in order to avoid future problems that may arise during the project implementation," he added.
Representatives from Local Government Units (LGU) and Barangay Officials where the project will be implemented, and other stakeholders are invited to get involved and raise their concerns and issues on the projects.
The district engineering office targets to conduct pre-construction conferences on all infrastructures under the General Appropriations Act for 2019, particularly the high-impact projects.
The district will implement a total of 54 projects amounting to P1.5 billion under the 2019 infrastructure program.