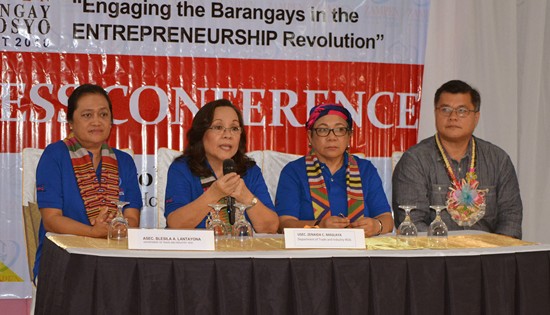 Usec. Maglaya, with DTI Asst. Secretary Blesila Lantayona (extreme left), DTI-9 Regl Dir. Sitti Amina M. Jain, and Zamboanga City Chamber of Commerce and Industry President and KMME Mentor Mr. Cholo Soliven answer questions from the media during the Barangay Negosyo Summit.
(Photo by DTI-9)
Barangay officials should look at entrepreneurship with developmental mindset – Usec. Maglaya
By DTI-ROG
October 11, 2018
ZAMBOANGA CITY – Department of Trade and Industry Undersecretary Zenaida Cuison-Maglaya urged the barangay chiefs present during the Zamboanga Peninsula Barangay Negosyo Summit to look at entrepreneurship with developmental mindset to help their constituents in a long-term basis.
Gracing the said event held last Monday in this city, Usec. Maglaya said, "Entrepreneurship can bring revenue to their barangay. They should look at this as a help to their constituents and the barangay as a whole. The jobs it will create and capacitating their constituents. Imagine our barangay officials who will not be pestered late at night by their constituents asking for emergency financial assistance because they already have money. They are now capable".
Maglaya said barangay officials should treat this initiative as a help in empowering the people, creating economic activity in the barangays, with them being partners of DTI and their constituents.
"What we want is for our officials to look for those who are interested in entrepreneurship and who needs our help. They know better the people in their area. We, on the other hand, will come and talk to them and help them with their needs", she said.
Maglaya also pointed that with the surging prices of commodities, capacitating the public is essential.
"There are things that are beyond our control, like the increase in prices. We need to capacitate our people; give them livelihood, or business with market for them to earn and help in the community. That's what we want here. That's what this partnership with our barangay officials is for", Maglaya stressed.
The Barangay Negosyo Summit is the first in the country, and was conceptualized and initiated by DTI-9.
The summit's aim is to invite all barangay chairmen in the region together with at least one micro and small entrepreneur in their area. Over 1,500 barangay officials and MSMEs attended the activity and was also graced by DTI, Department of Interior and Local Government (DILG), Department of Labor and Employment (DOLE), and other local governments and national line agency officials.
Also present is Zamboanga City Mayor Ma. Isabelle Climaco-Salazar, who has vowed full support to DTI and DOLE in all its endeavors for the people of the city and the peninsula in general.