4 farmer organizations in EV see increased income
By JOSE ALSMITH L. SORIA
November 23, 2018
TACLOBAN CITY – Four agrarian reform beneficiary organizations (ARBOs) in Leyte and Samar are expected to have increased revenues after the Food and Drug Administration (FDA) issued license to operate to four processed food products they manufacture.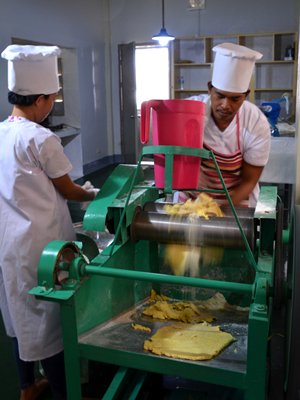 Photo taken during the actual processing of the pancit canton noodles by the San Roque Farmers Association in Daram, Samar.
Early this year, the FDA issued license to operate for the marketing of "banana chips" by Omaganhan Farmers Multi-Purpose Cooperative based in Tabango, Leyte; "imbotido" by the LIBERCON Multi-Purpose Cooperative based in Hilongos, Leyte; pancit canton noodles produced by the San Roque Farmers Association in Daram, Samar; and "cassava chips" manufactured by ESEP ARC Cooperative based in Salcedo, Eastern Samar.
For the pancit canton noodles, buyers can choose between squash and malunggay flavors, while for the cassava chips, the manufacturer offers sweet blend and garlic flavors at very affordable prices.
With the issuance of the license to operate by the FDA, Assistant Regional Director for Agrarian Reform Beneficiaries Development and Sustainability Program (ARBDSP) Ismael Aya-ay said that these products could now be sold in a larger scale, thereby giving the ARBOs the opportunity to expand their market and earn more.
Meanwhile, Daram Vice-Mayor Lucia Astorga disclosed that they had already introduced the pancit canton noodles to various restaurant owners in Samar and even in Tacloban City.
Aya-ay explained that ARBOs are exposed to various livelihood trainings for additional source of income.