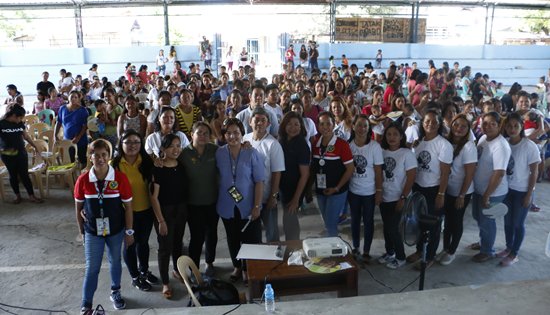 This year, around 200 women attended the Safe Motherhood Caravan in Barangay Dulao, Bago City organized by PBSP with Intellicare and the Bago City Government.
Teen moms learn life-saving skills through PBSP's Safe Motherhood Caravans
By PBSP
November 21, 2018
CEBU CITY – Rietchelyn Jalea was 18 years old when she had her first child. She was a former restaurant employee in Siquijor when she met her partner, who decided that they leave for his hometown in Bago City, Negros Occidental and build a home there instead.
Soon after, she got pregnant and since she was too young to handle the rigors of motherhood, she had a difficult time balancing her roles as mother and wife. Their elopement also made her family unprepared for sudden expenses needed for a new family.
"The worst experience was when my baby got sick. It made me realize how hard it is to take care of a child. I didn't know what to do because I am a young mother and no one is there to guide me," she said.
Jalea is one of the 13,000 women in the country who received life-saving maternal and child care information services through PBSP's Safe Motherhood Caravans (SMC). PBSP has been organizing annual caravans since 2013, where women attend sessions on pre-natal and post-natal care, responsible parenthood, self-care and nutrition, exclusive breastfeeding, and child care.
"I am really thankful that I was able to attend the Safe Motherhood Caravan because I learned a lot about family planning. After the activity, I decided to get an implant so that I wouldn't get pregnant yet. I still want to take better care of my child," Jalea said.
Valuable Information for Young Mothers
In the Visayas, a total of 10 caravans were held this year in the cities of Cebu, Bacolod, Bago, Himamaylan, and Kabankalan, which reportedly have the most number of teenage pregnancies.
PBSP has organized SMCs in these areas since 2014 with help from its corporate donors and local government health partners.
With the help of the annual caravans, the contraceptive prevalence rates in Himamaylan and Bago cities have collectively increased from 44.86% in 2014 to 47.41% in 2016. Infant deaths have likewise dropped from 14 in 2014 to 2 in 2016.
Contraceptive prevalence is the percentage of women who are currently using, or whose sexual partner is currently using, at least one method of contraception.
"The good thing about the Safe Motherhood Caravan is that it really teaches women and mothers how to properly plan for a family and provide easy access to services after every session. And results show: in Barangay Dulao, for example, they used to have the most number of teenage pregnancies within Bago City. But with the Safe Motherhood Caravan, they are now ranked eighth this year," Bago City Health Office Nurse Angie Licañel said.
In collaboration with the local health units, participants also receive free prenatal consultations, application of implants, vitamins for their children, HIV testing, and other medical services.
"My son is now a year old and my husband and I plan to finish building our own home first before having another child. I also do not want to experience again the difficulties in my previous pregnancy and child-rearing. I am truly thankful for the SMC for teaching us how to be a better mother," Jalea added.
Business in Health
PBSP's flagship program on health focuses on maternal and child health, which is anchored on the United Nations' Sustainable Development Goal 3, which is to ensure healthy lives and promote wellbeing for all at all ages.
The Philippines failed to reach the Millennium Development Goal of reducing its maternal mortality rate from 209 to 52.2 per 100,000 live births. The Department of Health has identified at least three contributing factors to the non-achievement: the delay in reaching appropriate centers, delay in providing health, and delay in seeking medical help.
The annual sessions aim to reduce maternal and infant mortality in the country by educating women about safe motherhood practices; promoting the utilization of life-saving maternal, newborn, and child health services; and learn various strategies on responsible parenthood.
This year, the PBSP's SMC is being held in partnership with Intellicare and Republic Cement Philippines.