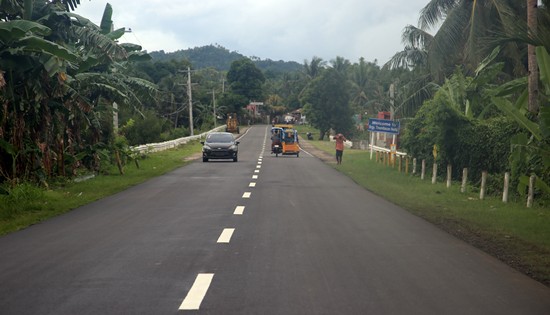 Preventive maintenance of road asphalt overlay along Daang Maharlika (SM) (Sn Isidro - Sn Juanico Br.) - K0719 + 219 - K0720 + 964; K0720 + 990 - K0721 + 000, Samar.
DPWH completes P27-M asphalt overlay in Calbayog
By MAE ANGELICA R. COMOTA
November 16, 2018
CALBAYOG CITY – The Department of Public Works and Highways Samar First District Engineering Office (SFDEO) completes the preventive maintenance on a major road section along Daang Maharlika.
The project covers 3.542 kilometers of asphalt overlay starting from Brgy. Malopalo to Brgy. Tinambacan in Calbayog City. It has an allocation of P27 million sourced out from the 2018 Regular Infrastructure Fund and is under contract with B. Vicencio Construction.
SFDEO's maintenance personnel installed thermoplastic pavement markings along the newly-preserved road to provide accurate road markings that will reduce vehicular accidents.
This particular road section connects Manguino-o Port to the city proper and experiences a high volume of traffic. Most of the vehicles plying along the highway are trailers and trucks carrying cargo from Cebu.
Both public and private vehicles also use this road to transport people from north to south of the country.
With the completion of this project, the aforementioned road users are provided with a faster, safer and more convenient travel experience that will contribute to the continued economic boom of the city.