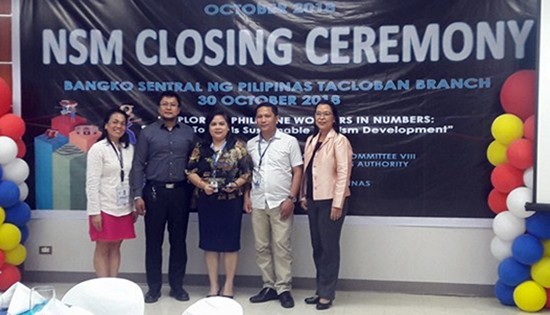 PIA Regional Office 8 OIC Venus H. Sarmiento receives the plaque for Best NSM Agency in Eastern Visayas. (L-R) PSA-RSSO 8 Regional Director Wilma A. Perante, BSP Tacloban Branch Acting Deputy Director Ronaldo O. Bermudez, PIA-8 Information Officer II Leonilo D. Lopido, and NEDA-8 ARD Meylene C. Rosales.
PIA bags first ever best NSM agency in EV
By PSA-8
November 12, 2018
TACLOBAN CITY – The Philippine Information Agency (PIA) Regional Office VIII was awarded the first ever Best National Statistics Month (NSM) Agency in Eastern Visayas during the NSM Closing Ceremony on 30 October 2018 at Bangko Sentral ng Pilipinas Tacloban Branch.
Among the three (3) agencies who have submitted their bid for the Best NSM Agency, PIA emerged as the winner for its significant contribution through various information dissemination activities during the month-long celebration of the 29th National Statistics Month in the region with the theme, "Exploring Philippine Wonders in Numbers: Statistics Towards Sustainable Tourism Development".
The Best NSM Agency, the first in the region, was conducted by Philippine Statistics Authority - Regional Statistical Service Office VIII (PSA-RSSO VIII) in coordination with the Regional Statistics Committee VIII (RSC VIII), to recognize the agency which hosted relevant activities and with outstanding participation in various activities during the 2018 NSM Celebration. It aims to encourage wider participation to the NSM celebration and to promote the conduct of activities that will further bring off the objectives and spirit of the month-long observance of the NSM. The search was open to all Regional Line Agencies, Local Government Units (Province, City, and Municipality Levels), Academe, Non-Government Organizations, and the Private Sector in the region.
The NSM Awards Committee was composed of the Regional Director of PSA-RSSO VIII and the Chief Statistical Specialists of PSA Provincial Statistical Offices in the region. Criteria of the competition included, a) Diversity and number of statistical activities (25%); b) Clarity of objectives/message and promotion of statistical awareness/literacy in relation to the theme (25%); c) Outputs, outcomes and impacts of Statistical activities (25%); d) Extent of participation/coverage (10%); e) Promotion of a favorable image of the region/province (10%); f) Economy in the use of resources (5%).
The NSM is an annual celebration conducted every October pursuant to Presidential Proclamation No. 647 "Declaring the Month of October of Every Year as the National Statistics Month", in order to promote, enhance and instill nationwide awareness and appreciation of the importance and value of statistics to the different sectors of society; and to elicit the cooperation and support of the general public in upgrading the quality and standards of statistics in the country.
The RSC VIII, through the PSA-RSSO VIII as its technical secretariat, spearheaded the NSM celebration in the region.