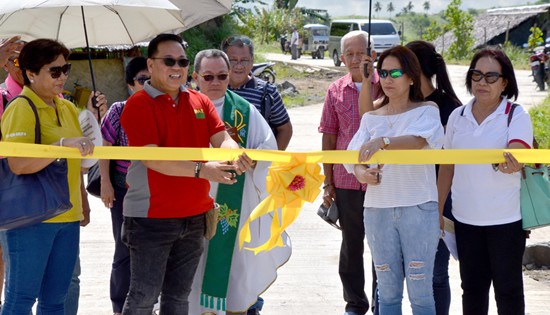 DAR Assistant Regional Director Ismael Aya-ay (2nd from L) and Sta. Margarita Mayor Gemma Zosa (2nd from R) cut the ceremonial ribbon during the inauguration of the 3.1-kilometer Ilo-Balud farm-to-market road implemented under the second phase of the Agrarian Reform Communities Project (ARCP-II).
DAR turns over alternate road for farmers
By JOSE ALSMITH L. SORIA
July 20, 2018
STA. MARGARITA, Samar – A 3.1-kilometer road constructed here as an alternate route for farmers in an upland area was turned over last week by the Department of Agrarian Reform (DAR).
Instead of passing by the national highway, farmers can already pass through the mountain in going to Barangay Ilo from Barangay Balud or vice-versa. The area is also accessible now to all types of vehicles.
DAR Assistant Regional Director Ismael Aya-ay who led the turnover and inauguration rites disclosed that the P18.4-million project was supposedly a road opening and spot concreting only. However, thru the efforts of the local government unit (LGU) under the administration of Mayor Gemma Zosa, the farm-to-market road project traversing from Barangay Ilo to Barangay Balud passing thru the mountain area is almost completely concreted.
The cost of the project implemented under the second phase of the Agrarian Reform Communities Project (ARCP-II) was shared by the national government thru a loan from the Asian Development Bank (ADB), and the LGU of Sta. Margarita.
Under the agreement between the ARCP-II and the said LGU, the recipients should allocate funds for the maintenance of the project within 10 years. Otherwise, the recipients will be shouldering the loan portion of the national government turning grant into a liability.
But in this case where the LGU had already improved the road by concreting throughout, according to Samar Provincial Agrarian Reform Program Officer-I Segundino Pagliawan, the recipient villages will no longer find it hard in the maintenance of it.
Meanwhile, Mayor Zosa expressed her gratitude to the DAR for opening this road which led to the LGU's construction of road networks that would link villages in her municipality as well as to the villages of the adjacent town of Gandara.
Zosa added that this also opened opportunities for the farmers, thus she encouraged them to produce more and have higher income.
Further, she encouraged the farmers to produce more of the "kalinayan rice" or the "red rice" which according to her, a well-known department store in Metro Manila is willing to tie-up with their municipality in the marketing of this product.
More than 1,600 residents in this area, wherein 180 are agrarian reform beneficiaries, are expected to be benefited by the project implemented under the Program Beneficiaries Development component of the Comprehensive Agrarian Reform Program (CARP).