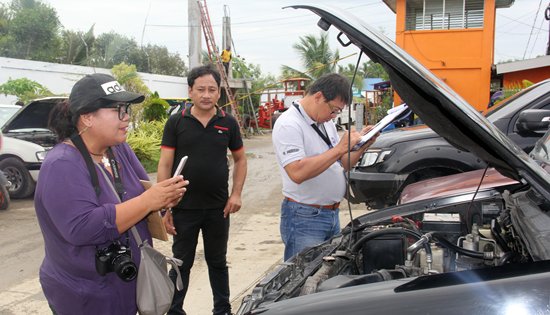 DPWH Region 8 Inspectors Ma. Luisa Pedrosa and Terencio Regala with Mech. Engr. Edward Arma, the head of the Equipment Services Unit of SFDEO.
2nd quarter vehicles' and equipments' inspection undertaken
By JASON DELOS ANGELES
July 19, 2018
CALBAYOG CITY – DPWH Samar First District Engineering Office (SFDEO) undergoes 2nd quarter inspection of service vehicles and equipment on July 18, 2018.
Inspectors from the Regional Office, Mr. Terencio L. Regala and Ms. Ma. Luisa V. Pedrosa inspect 25 service vehicles assessing their cleanliness, accessories' functions and updated Land Transportation Office (LTO) registrations as well as the driver's license of the operators of these vehicles.
"This inspection ensures that the service vehicles used by this office are safe for the roads and that their drivers have a good understanding of their roles and responsibilities in compliance with not only DPWH standards but also to the standards of other government agencies such as the LTO and Highway Patrol Group," said Inspector Pedrosa.
On the last vehicle inspection conducted last April 24, 2018, SFDEO ranked 2nd place among the 13 District Engineering Offices in Region VIII because it satisfactorily complied with all of the standards required in the use and maintenance of its service vehicles. The final findings and assessment for this quarter will be communicated back as soon as it is evaluated in the Regional Office.