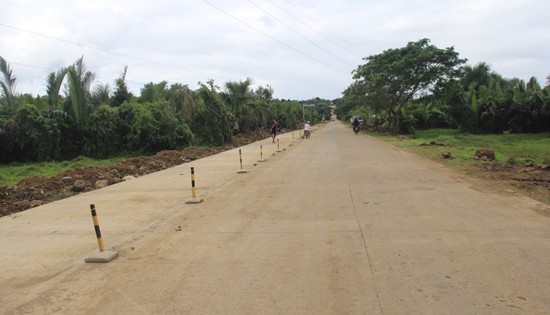 A widened portion of the Calbayog Diversion Road along K0729+400-K0732+400 in Brgy. Dagum.
P105 million diversion road widening project benefits travelling public
By JASON DELOS ANGELES
January 19, 2018
CALBAYOG CITY – Due to the increasing volume of vehicles in the city, traffic congestion has become a norm for the average Calbayognon motorists, whether they are travelling for their morning commute or going home after a long day at work or school.
This is the primary purpose why DPWH Samar I implemented the widening of Calbayog Diversion Road. The project covers the widening of the existing 3-km. road from K0729+400 to K0732+400, 5,945 lin. m. reinforced concrete canal and 1,116.80 sq. m. slope protection. It is under contract with RNMK Construction and Supply with a total appropriation of 105 million from the FY 2017 GAA Fund.
Widening the lanes on a curve can reduce the risk of head-on crashes by giving drivers more room to get around it without crossing into the opposing lane. Similarly, widening turn lanes can improve safety, especially for larger vehicles. It can also reduce sideswipe crashes.
Mr. Romeo Llauderes, a councillor in Brgy. Dagum, stated that since the widening of certain portions of the diversion road, motorists passing through the area have increased bringing along motorized tricycles which make travel more convenient for the local residents.