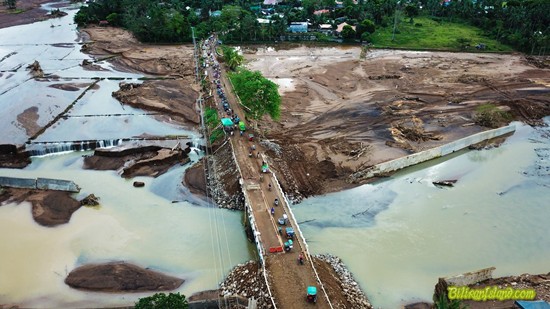 Caraycaray Bridge opened to traffic limited to a 4-wheel type light vehicles on January 11, 2018.
(photo credit to Biliranisland.com)
DPWH-BDEO announces the opening of Caraycaray bridge to traffic
By DPWH-BDEO
January 12, 2018
NAVAL, Biliran – The Department of Public Works and Highways (DPWH) Biliran District Engineering Office (BDEO) informs the general public that effective January 11, 2018 at 8:00 o'clock in the morning, Caraycaray Bridge is open to traffic.
DPWH-BDEO clarifies that it will be opened to a 4-wheel type light vehicles only.
In an interview made by Biliranisland.com to Engr. Alfredo L. Bollido, Assistant District Engineer, he said that for vehicle vans, the passengers will have to alight before the vehicle crosses the bridge. Bags and cargoes are also unloaded before the vehicle crosses.
He further informed that if PAGASA issues a Heavy rainfall warning, and the water rises, the bridge will become off limits to vehicles and pedestrians.
According to Bollido, total replacement is recommended for the Caraycaray Bridge, this, after both approaches were washed out by continuous heavy rains brought by Tropical Storm Urduja on December 15-16.
Both approaches of the Caraycaray bridge undergone backfilling and embankment to serve as a temporary passage for the public. It was opened to traffic for motorcycles and tricycles on January 9, 2018 and to light vehicles on January 11, 2018.
DPWH-BDEO advised the travelling public especially the drivers, tricycles and motorcycle riders to take extra careful when crossing the bridge and to follow the traffic rules and regulations set by BDEO. It is the topmost priority of the district office to ensure the safety of the public.
The Caray-Caray Bridge is an essential bridge because it is the only access in going to the Mainland of Leyte.
DPWH-BDEO is now preparing for the request of the calamity fund to be used to rehabilitate the damaged National infrastructure facilities in Biliran.