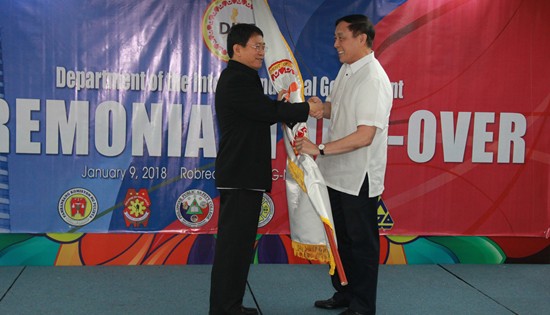 Incoming Department of the Interior and Local Government (DILG) Officer-in-Charge (OIC) Eduardo M. Año symbolically accepts the DILG leadership by accepting a DILG flag from outgoing DILG OIC Catalino S. Cuy during a turnover ceremony at DILG NAPOLCOM Center in Quezon City on January 09, 2018.
Año vows relentless war against illegal drugs, crime, and corruption in turnover ceremony
Press Release
January 9, 2018
QUEZON CITY – Incoming Department of the Interior and Local Government (DILG) Officer-in-Charge (OIC) Eduardo M. Año vows to be the "conductor who will lead towards a clear vision" while relentlessly waging a war against illegal drugs, corruption, communist insurgency, and violent extremism in the turnover ceremony held on Tuesday afternoon.
Facing the officials and employees of DILG, OIC Año laid the blueprint of his leadership focusing on illegal drugs citing that "with the collective efforts of the employees and DILG-attached agencies, greater tasks will be accomplished in the service of President Rodrigo Roa Duterte's administration".
"Under my watch, the DILG will relentlessly and resolutely wage a campaign to rid the country of illegal drugs, criminality, and corruption. The threats of communism and violent extremism will also be met head-on," says Año.
"I will strongly uphold our primary mandate to 'promote peace and order, ensure public safety and further strengthen local government capability aimed towards the effective delivery of basic services to the citizenry'" he adds.
To realize the said endeavor, Año says that existing local institutions that deal with peace and order and public safety such as the Peace and Order Councils (POCs), Anti-Drug Abuse Councils (ADAC), and People's Law Enforcement Board (PLEB) shall be strengthened.
He also says that the engagement of the citizens and other sectors of society in this effort or a whole-of-nation approach is essential to this crusade.
The DILG OIC declares as well that under his leadership, ranks of local and police officials shall be "cleansed" to "separate the bad eggs from within the ranks".
"As for local and police officials, and all engaged in crime groups, you will be held accountable and will be dealt with uncompromisingly for violating our laws," says Año.
Strengthening LGUs
According Año, being earmarked with 15% more budget compared to last year implies greater responsibility and accountability for the Department and higher expectations to produce relevant and solid programs and projects.
"Local government accountability and performance is one indicator which will enable us to reach out to more Filipinos, ensuring that we are fulfilling our mandate. Thus, we will make certain that we strike a balance between our national and local government unit (LGU) driven initiatives," explains Año.
Continued scaling of the performance meters that LGUs should meet such as Seal of Good Local Governance and Performance Challenge Fund, says Año, will be intensified to push LGUs to go beyond the demand of their job employing better service performance for the people.
Año also promises to carry out needs and capacity building programs for LGUs for them to implement programs and projects that will address the needs of the constituents, especially in the fields of local economic development, social protection such as water, health facilities and other relevant projects.
He also incites greater efforts for disaster preparedness saying that "such initiatives must start early on to protect the lives of our people and prevent tragedies brought about by typhoons 'Urduja' and 'Vinta' from happening again."
Improved internal governance capacity
"This is the only way for us to effectively perform our mandate. Magagampanan lamang natin ang ating katungkulan kung may sapat tayong kakayahan at kagamitan."
Año also spoke of improving the internal governance capacity which includes the recruitment of new Police, Jail, and Fire Personnel and the necessary conduct of capacity enhancement activities.
He says that such enhancement trainings will develop in them the values to become persons responsible for the protection of the people's lives, procurement of necessary equipage, and construction of needed facilities.
Año also acknowledged the steadfast leadership of outgoing DILG OIC Catalino S. Cuy saying that the turnover is about "brothers-in-arms accepting the greater challenge of leading their own teams of civil servants for a chance to better serve the Filipino public, and improve our communities and country."