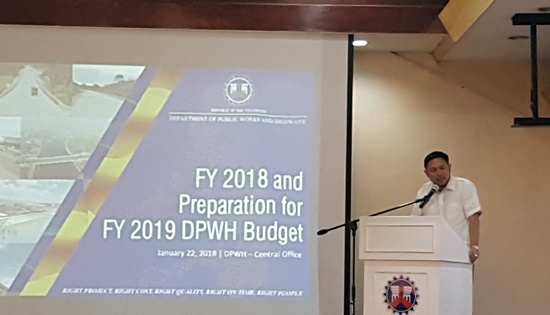 Sec. Mark Villar delivering his message during the instructional meeting held last January 22, 2018 at the DPWH Central Office in Manila.
DPWH Samar I to uphold integrity in 2018 project implementation
By MAE ANGELICA R. COMOTA
February 5, 2018
CALBAYOG CITY – On Monday, January 22, 2018, sixteen Regional Directors (RDs) and 183 District Engineers (DEs) from all over the country attended an instructional meeting regarding the FY 2018 and Proposed FY 2019 DPWH Budget conducted at the DPWH Central Office in Manila. Among them was Samar First District Engineer (DE) Alvin Ignacio.
Before the meeting proper, DPWH Secretary Mark Villar delivered his message by expressing his support to the RDs and DEs, "Huwag kayong matakot gumawa ng tama, susuportahan ko kayo. I'm aware of the pressures you are facing but in the end, it is our duty to protect the budget. I will make sure that under my watch, we will not sink but shine."
The instructional meeting mainly focused on the general and special provisions of the FY 2018 General Appropriations Act (GAA) as well as its modification and augmentation which was discussed thoroughly by DPWH Undersecretary for Planning and PPP Maria Catalina Cabral. Additionally, Usec. Cabral mentioned that 2018 will serve as a transition period because there will be a shift to annual, cash-based appropriation for the FY 2019 budget compared to the obligation-based approach used in the previous years.
Meanwhile, Project Monitoring Division Chief, Melrose Pailma, encouraged those in attendance to religiously update the projects in the Project and Contract Management Application (PCMA) which is a system used as a tool for inspection by reflecting the accomplishment of infra projects real-time in compliance with DPWH's transparency efforts.
DE Ignacio restated all of the important points made during the instructional meeting during the regular staff conference with Samar First's key officials and project engineers. He gave out instructions to use the lessons learned in 2017 as basis in the implementation of projects for 2018. He concluded the meeting by reiterating Sec. Villar's words of protecting the budget, "due to the increased budget for this year, the office [Samar First] shall put in place the necessary measures to speed up payment to contractors, reflecting an increased accomplishment rate while still upholding integrity in our project implementation so that the quality of our projects will not be compromised."