Rights groups mount dance protest vs. Cha-Cha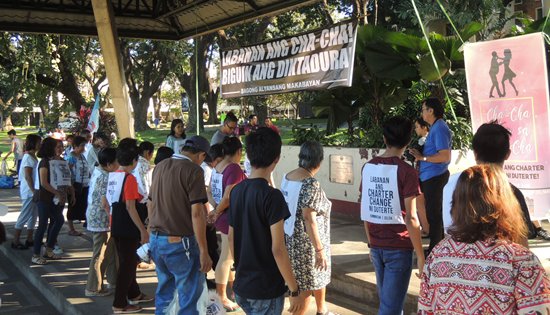 By KARAPATAN
February 3, 2018
QUEZON CITY – Karapatan and SELDA held a dance protest against charter change on February 3, 2018 at the Grandstand, Sunken Garden, UP Diliman, Quezon City. The event, dubbed Cha-cha laban sa Cha-cha, was attended by human rights advocates, martial law veterans, members of progressive organizations, and individuals who have expressed their opposition to Duterte's charter change.
"If the Duterte regime is inching the country closer to a full-fledged dictatorship to the tune of Cha-cha, the people will unhesitatingly dance to the tune of resistance," said Karapatan secretary general Cristina Palabay.
Karapatan explained that the current proposals in Congress which aim to change the constitution pose as dangers to the people's hard-won rights.
Palabay also noted that "these self-serving schemes will be the Duterte government's instrument to install a dictatorship, appropriate favors to his cohorts, and sell the country's sovereignty to imperialist powers by removing economic protections – all at the expense of the people's welfare."
The groups reiterated that several efforts to change the constitution have failed in the past because of resounding protests from the people. In past administrations, proponents of charter change have consistently peddled its passage, primarily targeting the removal of provisions in the current constitution which aim to protect the country's economy. "Now, a more treacherous version has seeped into the heads of power-hungry and greedy politicians, and it has found a perfect mascot in the form of a wanna-be tyrant," added Palabay.
"To frustrate such ambitious and self-serving efforts, we urge organizations and individuals to undertake different forms of actions to protest this anti-people charter change," concluded Palabay.