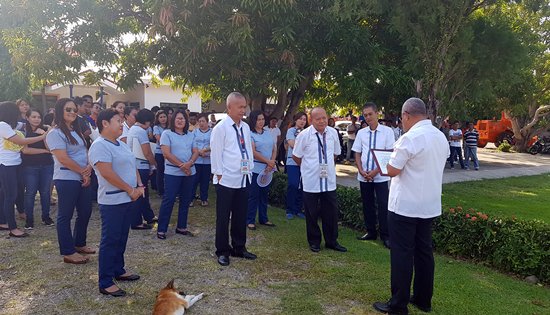 Engr. Reynaldo P. Peñaflor, Chief of Quality Assurance Section informs Biliran DEO employees for achieving a one star rating for Materials Testing Laboratory on Tuesday, August 28, 2018 after the flag raising ceremony.
DPWH-Biliran DEO now acquires one-star rating for materials testing laboratory
Press Release
August 29, 2018
NAVAL, Biliran – The Department of Public Works and Highways (DPWH) Biliran District Engineering Office (BDEO) achieved a one-star rating this time for Materials Testing Laboratory.
According to District Engineer David P. Adongay Jr., the district has successfully passed the reassessment conducted by the Bureau of Research and Standards (BRS) of DPWH Central Office conducted on April 26-27, 2018 at Biliran DEO's Materials Testing Laboratory.
BDEO satisfactorily complied with the provisions of Department Order No. 126, Series of 2016 Amendment to D.O. No. 11 Series of 2013 "Star Rating of DPWH Regional and District Materials Testing Laboratories" and hereby classified and categorized as a One-Star Materials Testing Laboratory.
Department Order No. 11, Series of 2013 is being amended to emphasize that the Star Rating System for testing laboratories of the Regional and District Engineering Offices recognizes the need for capable laboratory technicians and Materials Engineers and complete and reliable testing apparatus/equipment.
Engr. Reynaldo P. Peñaflor, Quality Assurance Chief said that after acquiring a one star rating, they will slowly comply with the requirements for applying for a two-star rating.
"If we can complete the testing equipments with capable laboratory technicians and Materials Engineers, we will be applying for a two star rating," said Peñaflor.
District Engineer Adongay are encouraging the district's laboratory technicians and materials engineers to attend more trainings and seminars.
Meanwhile, Peñaflor said that meeting all the required testing apparatus would mean that they can already conduct all laboratory tests for contractors without going to outside accredited laboratories.
The system classify testing laboratories into One-Star, Two-Star or Three-Star categories based on the following criteria: Availability of testing equipment and apparatus, Competence/Accreditation of Personnel, Observance of health and safety standards, Working area of the laboratory, Calibration of apparatus/equipment and Third-party certification.