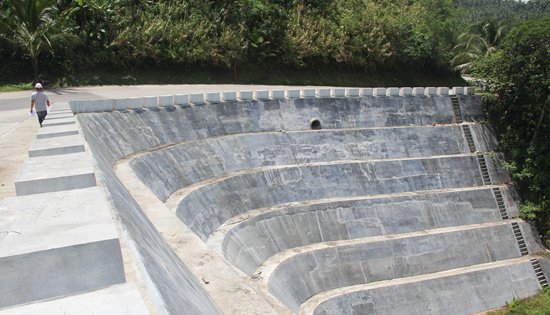 One of the completed slope protection structures along Brgy. Jose Roño.
DPWH completes P49.9-M slope protection project
By MAE ANGELICA R. COMOTA
August 29, 2018
CALBAYOG CITY – The Department of Public Works and Highways Samar First District Engineering Office completes the P49.9 million project covering the construction of 7,800 square meters of slope protection structures along 293 meters of road section along Calbayog - Catarman Road in Brgy. Jose Roño, Calbayog City.
These structures are designed to prevent abrupt collapse of weakened slopes in cases of heavy rainfall and earthquakes because they help retain the slope's stability.
The general travelling public directly benefits from this project as it allows for a safer travel environment. It also provides the residents of Brgy. Jose Roño with the necessary protection from harsh road slope disasters.
"I live here in Brgy. Jose Roño and I usually travel from here to work. And this road is very difficult to navigate because of the endless curves that lead to deep ravines. It's good to know that DPWH is developing safer roads for motorists like me," said Ariel Cinco.